We've all seen the label. When a smoker purchases a pack of cigarettes, it comes with a Surgeon General's warning on the pack to warn the smoker of the serious health consequences of tobacco use.
Any supplier of cigarettes is required by law to follow this protocol of making sure the consumer knows the harmful effects of what they are using. Unfortunately, for the rest of the many other harmful and addictive behaviors in the world, this is not the case.
Science and research is telling us over and over again that pornography is addictive. It changes and rewires the way the brain works, much like drugs. If porn producers had to put disclaimers beneath their videos they'd look something like this: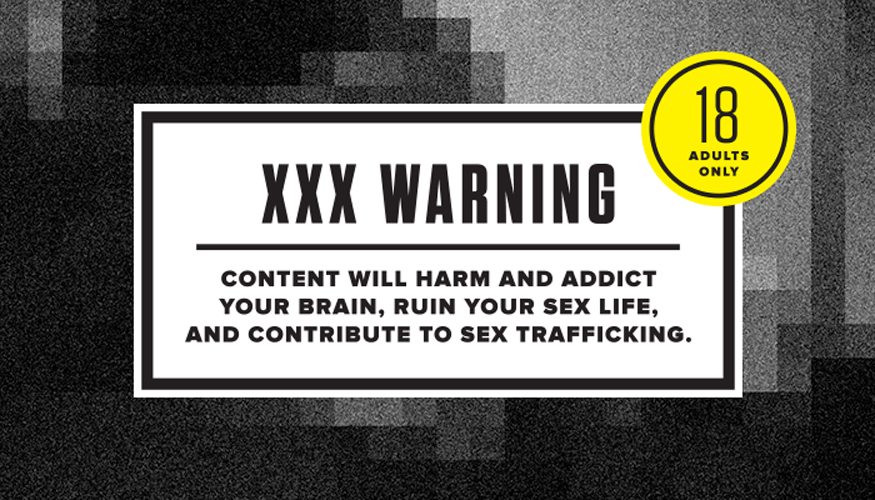 The truth is simple: more people are watching porn today than at any other time in human history. It's cheaper, more accessible, and more hardcore than it's ever been. See, back in the day, if you wanted to get an "X-rated movie," you would have to sneak into a roped-off room in the back of a video store, go to the sketchy side of town to an "adult theater," or go to the local convenience store and try not to make eye contact with the cashier as you purchased a centerfold magazine. They also checked your ID in the checkout line to make sure you were of age, like they now do with cigarettes.
Now compare that to today where the most hardcore porn imaginable is just a Google search away, with so much of it being free of charge. So it makes sense that in the last decade, with this influx of access, that the world has begun to question how harmful pornography really is and whether porn is addictive or not.
As of 2014, 'pornography addiction' had yet to be formally declared a diagnosable medical disorder and was instead considered by some experts as a type of 'compulsive behavior.' But science and research is coming out daily that forces experts to regard porn addiction as a medical/clinical condition similar to alcohol and drug addictions.
However, there is still the general public who seems to largely believe that pornography addiction is a myth, just a matter of opinion formed by religious or political beliefs.
Regardless of what the popularly accepted term is for it, the facts remain the same: porn is harmful and research is proving it. Dr. Victor Cline, a PhD in psychology from Berkeley, was noted researcher and counselor on the effects of pornography. He stated:
"In the scientific world the question of pornography effects is no longer a hot issue. It's really not debated anymore. The scientists and professionals are no longer 'pretending not to know.' The new pornography commission is almost redundant. Everybody knows that pornography can cause harm, it can also change people's sexual appetites, values and behavior. . . . It's a power form of education. It can also condition people into deviancy. It can also addict. There are too many articles in the scientific journals as well as current books reviewing research attesting to this for anybody to deny its effects anymore."
Yet, still not everyone believes that porn is a real addiction. And this is not the only time in history that it's taken society a while to accept what science finds out first.
Science Finally Catches Up With The Truth
Let's take it back to the early 1960s when not everyone believed that you could get addicted to smoking cigarettes or that it was bad for you at all. It took nearly half a century to transform the perception of smoking tobacco/nicotine addiction from one of individual choice to a real public health issue. Finally, today, we live in a society where we know that smoking and even secondhand smoking is a serious health risk for users and non-users alike. But it took some serious time to get here.
Check out this familiar timeline:
On June 12, 1957, Surgeon General Leroy E. Burney declared it the official position of the U.S. Public Health Service that there was indeed a relationship between smoking and lung cancer. Just like with pornography today, it was clear that there were certain undeniable risks associated with smoking. Plain and simple, science proved that smoking cigarettes was harmful and it couldn't be ignored any longer. But the committee was still out on one detail: sure it was harmful but was it actually addictive? The report insisted that, "tobacco habit should be characterized as a habituation rather than an addiction." They came to this conclusion partly because the addictive properties of nicotine were not yet fully understood and partly because of differences in opinion over the meaning of addiction.
Sounds a little familiar, eh?
Take Your Time, Society…
While the report proclaimed that "cigarette smoking is a health hazard of sufficient importance in the United States to warrant appropriate remedial action," it didn't offer a solution to the problem. Basically, the evidence was piling up that smoking was really bad for you but nobody was sure what to do about it yet; nobody wanted to enforce "opinions" on another person's lifestyle. So they left it up to politicians and a finally a whole decade later in 1970, cigarette advertising on television and radio was banned.
Think about that timeline. After almost a century of smoking becoming commonplace on society, it took another decade after finding out that smoking kills to do something about it? Talk about moving slow. But that's usually how things like this work—it takes time to change an entire society's perception of something.
In this ten year span before being banned from advertising, many of the cigarette companies advertised with slogans like, "Play safe with Philip Morris," and the legendary, "More doctors smoke Camels," to increase the sales of their product and to try to fight the increasing public awareness of smoking's negative health effects.
Which brings us to the now-infamous, A Frank Statement, which was a historic ad campaign run by tobacco companies to make one last fight against the Surgeon General's warning about the harms of smoking cigarettes. A vice president of one tobacco company wrote in a memo that their strategy was to "create doubt about the health charge without actually denying it." Some of these frank statements included:
That medical research of recent years indicates many possible causes of lung cancer.
That there is no agreement among the authorities regarding what the cause is.
That there is no proof that cigarette smoking is one of the causes.
That statistics purporting to link cigarette smoking with the disease could apply with equal force to any one of many other aspects of modern life. Indeed the validity of the statistics themselves is questioned by numerous scientists.
Wow. These hilariously untrue statements just go to show how desperate the tobacco companies were to continue making money, regardless of what they knew about the damage their product was doing. They tried their hardest to create serious doubt in the minds of the general public by pointing fingers in every direction but their own.
Porn Is The New Tobacco
Luckily the effects of these corrupt ad campaigns didn't work in the long run and today smoking is at an all-time low. But that doesn't mean that the exact same strategy isn't being used in society today.
Nowadays, there are "frank statements" about porn all over the place. You've already heard them:
Porn is natural; it's a good sexual release for you.
Porn is not the problem—you are the problem if you are stupid enough to get addicted to it.
Porn gives you great ideas for your sex life and is healthy when watching with your partner.
Porn addiction isn't a drug or alcohol addiction, or even an addiction at all.
Right… And history repeats itself.
A Gallup Survey conducted in 1958 found that only 43% of Americans believed smoking caused cancer. Just ten years later, in 1968, that percentage had increased to 79%. This just goes to show that as more and more research is done, public opinion can shift. The same is becoming true with pornography—the perceptions have already begun to shift. Informed people are turning off porn not for moral reasons, but for physical and mental health reasons. Super smart dudes are giving amazing TED talks that have millions of views, citing the undeniable science and research about the harms of porn.
Naomi Wolf, a writer for New York Magazine, suggests that, "you might want to rethink your constant access to porn in the same way that, if you want to be an athlete, you rethink your smoking. The evidence is in."
We think Naomi is onto something, along with the rest of the scientific community that is telling us something very important about porn: it isn't harmless.
What YOU Can Do
Be the change in our society. Help change perceptions about pornography and its harms. SHARE this article to help spread the facts.