This year was the most successful #NoPornovember in Fight the New Drug history and all you Fighters made it possible!
Each year, the No Pornovember campaign serves as a giant reminder that this movement is alive and growing. This campaign has a much larger purpose than debuting remix Porn Kills Love tees and global Fighter shout outs, the purpose of this month is to spread the facts on the harms of pornography and be a bold voice for change online. We want to help our Fighters change the conversation surrounding pornography by providing them with ammunition to spark a discussion, and this month accomplished that in flying colors.
Let's look back at all the amazing things that happened this month: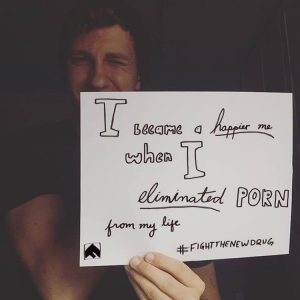 Fighter App Released
On Day 1 of No Pornovember, we released the official Fighter App that helps you get involved and make a direct difference for the cause like never before. The Fighter App makes it simple to help spread the message on the harms of pornography by allowing you to take action in your community and share your efforts on social media. There's a list of campaigns that you can select and then carry out, and each campaign has different objectives that all help you contribute to the cause in one way or another. Through the app, you'll be able to measure how much time you've spent pushing the movement forward and then be rewarded for your effort with awesome prizes. The more you share, post, click, and snap, the closer you'll get to free gear from Fight the New Drug and other awesome sponsors.
So far, we have tens of thousands of downloads from Fighters across the world, and more than 70,000 minutes have been given to the campaigns. Every day, we have more Fighters post their photos and stories to the app and keep the movement spreading, and it's only just beginning.
---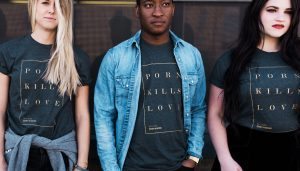 Record-Shattering Limited Edition Tee
Also on Day 1, we released our Porn Kills Love remix tee in black and metallic gold and it sold out in record time. A little more than 24 hours after its release, the limited run of 1,500 tees were gone! We surprised Fighters with a second run during Black Friday and those sold out as well. The best part about all this is that every penny contributed to our store goes back into funding our awareness campaign worldwide.
---

Our new Brain, Heart, World site is a beautifully designed resource that allows anyone and everyone to get educated on the real harms of pornography. We worked with world class designers, amazing animators and used peer-reviewed research to construct this amazing tool. Check out the site and then SHARE to spread the word!
---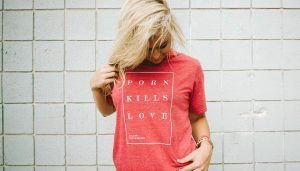 Science Behind the Slogan
In this comprehensive article released the second week of NoPornovember, we explain the science behind how porn can kill love. Our aim is to raise as much awareness as possible that porn isn't natural, it isn't normal, and it definitely isn't a healthy part of any meaningful relationship. So many people in society, especially in our tech-obsessed generation, believe that porn really is just harmless and pleasurable entertainment, and that it can even be a satisfying substitute for love. In reality, we are learning that it is just the opposite. It is harmful the viewer and it makes single people even lonelier and relationships even more difficult. Arm yourself with the research behind why porn can be so harmful and share this article, and keep spreading the movement.
---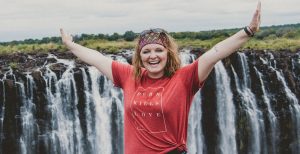 International Rep the Movement Day
For the first time ever, we celebrated NoPornovember with a global event called Rep the Movement Day. We had Fighters on every continent (except Antarctica) show their support for the cause and send in their awesome stories of how the movement is spreading through the simple act of wearing a tee and sparking a conversation. It's an undeniable fact that this movement is over 1.4 million strong, and growing by the day. This year was big, and next year will be even bigger.
---
Fighter Videos — Matt & Garrett
This month, we had some stand-out Fighters share their personal stories with the social media world and allow us to share their personal experiences with overcoming porn struggles. At the end of the day, it's always been about love.
After being exposed to pornography at the young age of 10, Matt developed a serious struggle that carried on for many years. It was only after taking a break from his porn habit that he realized how much more free he felt. After meeting the love of his life and having a wonderful honeymoon, he thought everything was good, until he quickly realized his struggle with porn wasn't entirely gone. It took time and strength to realize what he was really fighting for: real love.
Beginning in Yorktown, Virginia, Garrett biked over 3,800 miles across nine states in 56 days with the aim of raising awareness on the harms of pornography. On each leg of Garrett's trek, he dragged heavy chains behind his bike to symbolize the weight of pornography on individuals and society. He did all this while wearing a Porn Kills Love shirt, which he had people sign as he shared the word throughout his ride about Fight the New Drug and the harms of porn. He eventually ended his journey in San Francisco, California at the Golden Gate Bridge with his wife who walked the last three miles with him. All in all, he estimates he handed out hundreds of Porn Kills Love fact cards while averaging 67 miles per day on his bike.
---
November may be over, but this fight for real love and this fight to raise awareness on the harms of porn has only just begun. Keep sharing this massively important information, and no matter what month it is, always fight for real love. Thank you to all our Fighters for making this the best NoPornovember yet!
What YOU Can Do
Keep fighting for real love! If you're a year-round Fighter, SHARE this article and celebrate the movement's accomplishments!