Sometimes, it's hard to believe that anyone chases after real love anymore. We're constantly surrounded by a society that says porn is totally healthy and normal. Science and research beg to differ, however. It is important to remember that even in a society that is saturated with porn, you can choose to be different, because if you think about it, does anything truly good come from porn? Sure, it can provide moment of excitement and pleasure, but what can it do beyond that?
When you look at the world that surrounds you, it's not hard to see just how many opportunities there are to do something amazing with your life and make a real difference. Life can be really good, and love is something that makes everything better. Porn is the opposite of that. If you look closely at all of the good things going on in your life, you'll see an interesting trend—they probably didn't come from porn. Odds are, you didn't meet your best friend or get that great job because of porn. No one ever got into a good college because of porn, and you most likely don't have a better relationship with your family because of porn. Porn doesn't make life better, but it can definitely make it worse.
Life Is Better Without Porn
There's a whole world out there to experience, and porn doesn't exactly broaden your horizons. Why take time to watch porn when there are so many opportunities to make new friendships or explore the city you're in? Why let porn take away your creativity and energy when you can put that brain power towards something positive? Porn can take away all the great things about love and it leaves an empty counterfeit in its place. It takes away the trust, the emotional commitment, the cuddling, the sharing and caring; instead, there is just performing, deceiving, abusing, and self-focusing. When you look at it that way, it doesn't sound too appealing. What's healthy about continued loneliness when there could be amazing life experiences?
Related: Why Watching Porn Makes You Lonelier Than Before
Over time, even casually watching porn has the power to start changing ideas and attitudes, and that's not healthy. It has an effect on nearly every aspect of your life, including your relationships.
Porn Damages Relationships
Our relationships have a huge role in shaping who we are and how we live. Think about it—when you make a list of the most important things in your life, there's a good chance that the first few are relationships—your friends, your family, or your significant other.
Related: "No Harm In Looking, Right?" A Study Of Porn's Impact On Self-Esteem
Because these connections are so important to us, why would we let porn warp and twist them? The truth is, porn presents a completely unrealistic and harmful representation of sex—plastic surgery, airbrushing, and editing all create an unattainable and dishonest picture that simply doesn't exist in reality. After consistent viewing of pornography, viewers' minds can eventually start to blur the lines between fantasy and reality, and after a while of consistent viewing, porn watchers can sometimes only get aroused by the cheap imitation of sex that porn creates. Reality doesn't satisfy anymore, and viewers need more and more porn to get the same arousal.
Related: 10 Reasons Why You Should (NOT) Let Your Partner Watch Porn
On the other hand, real and sincere love is invigorating. It pushes us to be better, and provides even more depth and meaning to life. Healthy and wholesome relationships, romantic or otherwise, just make life so much better. You have spent most of your life trying to strengthen and build up those relationships, so why let porn get involved? When you plant a garden, are you going to actively put weeds in with the flowers and plants that you have worked hard to grow? Of course not! Just like a weed in a garden, porn can take away the beauty and strength out of relationships. The truth is, you don't need it.
Porn Destroys Self-Esteem
Not only can porn twist your relationships, it can even mess with your self-esteem. As human beings, it is virtually impossible to not have some kind of insecurity. They can range anywhere from personal appearance to social status, and we all have that one attribute that we are self-conscious about. Regardless of what you current self-esteem may be, you probably don't want it to decrease, right? Well, one of the effects of viewing pornography is that, over time, you can start feeling worse about yourself. In a recent study, a group of college men who viewed porn rated how they viewed themselves in terms of body satisfaction, relationship satisfaction, and overall emotional well-being. After analyzing the data, it turns out that guys who view porn are much more likely to have anxiety in relationships and withdraw from them more than guys who aren't viewing porn. Their sense of emotional security was lower overall than guys who do not view pornography. Not very healthy, is it?
Related: Why Bad Sex And Low Self-Esteem Result From Watching Porn
This kind of porn-induced insecurity isn't just a guy issue—it affects women as well. Research has shown that women exposed to porn or who are partners of those who are compulsively hooked on it are more likely to engage in sexual acts that make them feel uncomfortable. They are also more likely to worry about how they look instead of enjoying being intimate with their significant other. To top things off, porn adds pressure on women to comply with and be okay with pretty much anything their partner wants, which includes sexual violence and degrading behavior that is so prevalent in porn.
You Don't "Need" Porn
Let's be honest, porn is lame and you really don't need it. You can do some pretty awesome things in life that will be infinitely more satisfying than anything on a screen can give you. You've got tons of potential, and porn isn't going to help you accomplish any of your goals. It'll just change how you see your friends and family, change how your brain works, and potentially push you down a road that is extremely difficult to come back from. You don't need porn, so choose to kick it to the curb. Be a rebel. Fight for love.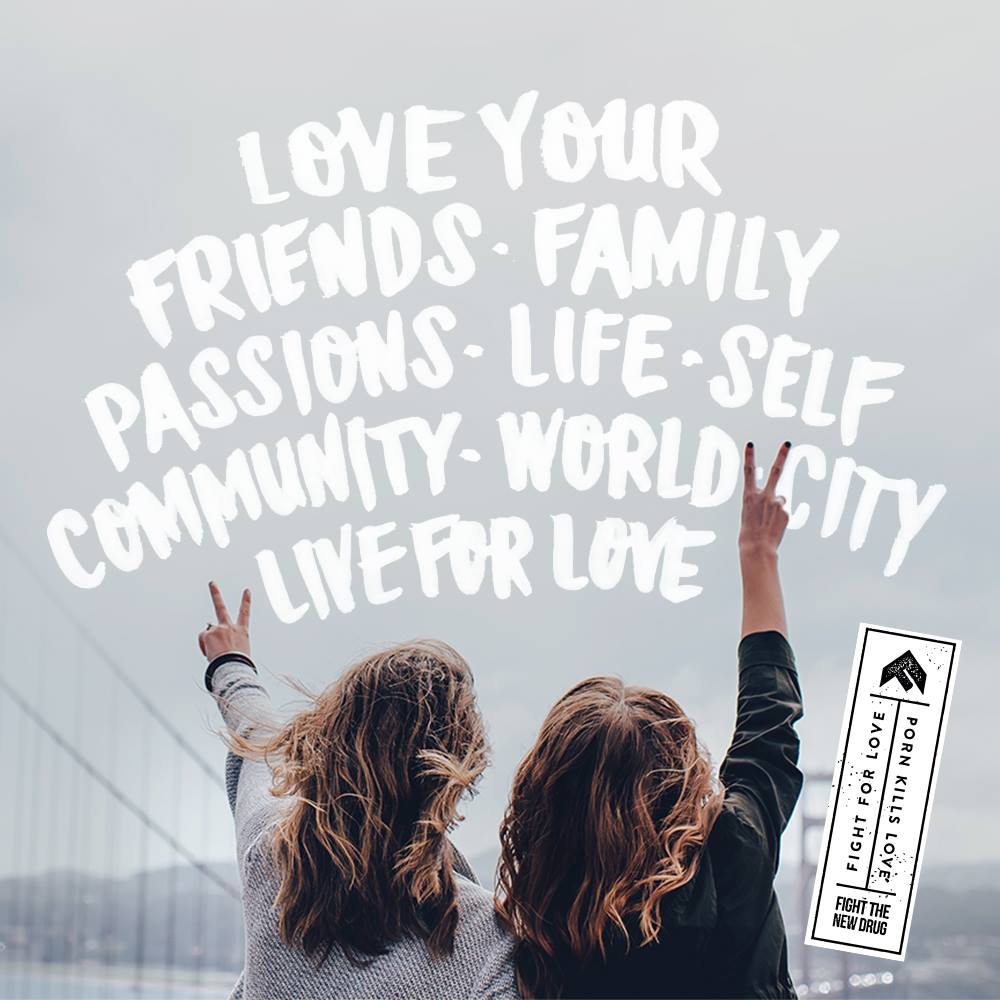 What YOU Can Do
Life is better without porn. SHARE this article to take a stand and add your voice to this important conversation.
Need help?
For those reading this who feel they are struggling with an obsession or addiction to pornography, you are not alone. Check out our friends at Fortify, a recovery program that will allow you take a step toward freedom. Anyone 17 years and younger can apply for a free scholarship to the program, and there is inexpensive pricing for anyone 18 and older. There is hope—sign up today and start getting the help you need at your own pace alongside a supportive community.
Spark Conversations
This movement is all about changing the conversation about pornography. When you rep a tee, you can spark meaningful conversation on porn's harms and inspire lasting change in individuals' lives, and our world. Are you in? Check out all our styles in our online store, or click below to shop: