I was 17 years old when my knight in shining armor fell off of his horse.
I had been dating my sweetheart for a little over a year when I asked him, out of the blue, if he had a pornography problem.  It was honestly more of a formality; I'd always been cautioned to have the "porn talk" with guys I dated, but it had seemed unnecessary with him.  He was so good.  He was – and is – my best friend.  So call it fate, destiny, or something else someone made up in a horoscope, I decided to ask him.
And the answer changed my life.
To find out my other half had struggled with pornography since he was 12 years old was surreal.  Everything happened so fast; I remember my head spinning, my eyes tearing, and my limbs feeling numb.  For an innocent and naïve girl, this was certainly a new world. I'd never even heard the words he confessed when talking about his struggle with porn, let alone knew what they meant. Amidst my extensive sexual vocabulary lesson, my feelings of self-worth and my views on our relationship went straight into the blender.
Related: My Boyfriend Is So Much More Than His Personal Struggle With Porn
I don't recall this event to solicit pity or even sympathy. We weren't married, he wasn't cheating on me, and he hadn't viewed porn in a while – it could have been so much worse. Even though it hurt at first, I quickly came to realize that the past cannot be undone. The reason why I recall this event is to bring hope to relationships everywhere and let those struggling know that pornography is not the end.
I watched my boyfriend break that night. I'd seen him cry only once before, but that night I watched wrenching emotional pain suffocate his 18-year-old body. I watched, dazed, as he humbly handed me his entire heart. He felt the consequences of his actions, no matter how long ago or how changed a person he was. And I learned just how much my heart was capable of feeling. The exchange we had that night was indescribable, such a mix of intimacy, tenderness, and intense heartache that I never want to recreate.
I knew I had a critical decision to make. This was a boy I had wanted to spend the rest of my life with, but now, I wasn't so sure because he had just shared this huge secret he had been hiding for so long. I could walk away and escape from the inevitable pain and baggage of a relationship weighed down by pornography. I felt I had every right to leave, as any partner would when learning of a huge secret.
Related: Love Is More Real After I Stopped Watching Porn
But I didn't leave. I chose not to.
I'd be lying if I told you the next few months weren't hard. Try hellish.
Yet, if I had left, I wouldn't be the person I am today.  I learned empathy, compassion, and charity. I learned not to judge. I learned that weakness and grief are just a couple of strings in life's guitar that can be tuned out by joy, trust, and love. Ultimately, I learned love is synonymous with sacrifice. It wasn't easy, but I chose our story, I chose our relationship, and that meant I had to be willing to do anything for it.
He and I are not perfect, nor will we ever be. But through it all, I learned that it is the cracked things in life that let light in.
And I learned it is through my cracked half that I find my light.
– S.
---
We love to hear stories of hope and positivity sent by couples who refuse to let porn pull them apart. Supporting those who struggle with porn by understanding that it can happen to anyone is a great resolution to this problem. Especially when viewers are exposed at such a young age, a struggle with porn does not make someone a bad person. So many who watch porn feel an enormous amount of shame brought on by others or themselves which pretty much always makes the issue worse. Many feel like they're a bad person, worthless, or permanently broken. Not only is this untrue, but these feelings of shame can also cripple people's self-esteem and stunt their progress. And we realize this is a complex issue, since remorse can be a healthy part of finding freedom and healing wounds. But too often shame is used as a beating stick that weakens and demoralizes.
Related: How To Talk To Your Partner About Porn & Why It's Important That You Do
By choosing love and understanding like this couple, instead of shame, we are helping to promote true change in this porn-saturated society. Continue to spread the word that pornography is harmful to individuals, relationships, and society in a way that will inspire and motivate others to choose love too.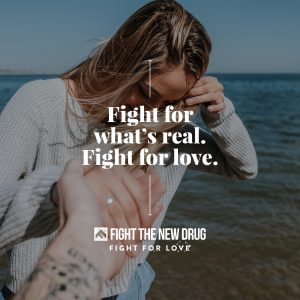 What YOU Can Do
Real love is more powerful than shame and porn. SHARE this article to raise awareness on the harmful effects of pornography.
Grab a tee and spread the love.