Terry Crews: Actor, Former-NFL Player, Ex-Porn Addict, Activist || Consider Before Consuming Podcast Interview (VIDEO)
Terry Crews is perhaps best known for his hilarious bicep-bulging Old Spice videos, but since achieving viral YouTube fame, Terry has gone on to become a force to be reckoned with in Hollywood. He has starred in hit TV series such as Everybody Hates Chris and Brooklyn Nine-Nine, and is featured in popular movies including White Chicks, The Longest Yard, Bridesmaids, The Expendables.
Now the host of America's Got Talent, Terry has also been outspoken about the harms of porn since 2015 when he repped a "Porn Kills Love" tee on Instagram.
Listen as Terry Crews tells Consider Before Consuming podcast host Garrett Jonsson how he really feels about pornography—especially during this time of social isolation during the current COVID-19 crisis. Hear why he's on a mission to educate individuals about porn's harms while also being a beacon of hope for those who feel stuck in their recovery.
You can get more of Terry Crews by tuning into Brooklyn Nine-Nine, America's Got Talent, and connecting with him on social media at @terrycrews. Listen to more episodes of Consider Before Consuming at considerbeforeconsumingpodcast.com or wherever you listen to podcasts. To support this podcast, text CONSIDER to 43506. Thank you for listening, and remember to consider before consuming.
Need help?
For those reading this who feel they are struggling with pornography, you are not alone. Check out our friends at Fortify, a science-based recovery platform dedicated to helping you find lasting freedom from pornography. Fortify now offers a free experience for both teens and adults. Connect with others, learn about your compulsive behavior, and track your recovery journey. There is hope—sign up today.
Rep The Movement, Start A Conversation.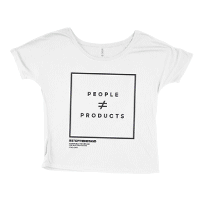 This movement is all about changing the conversation about pornography. When you rep a tee, you can spark meaningful conversation on porn's harms and inspire lasting change in individuals' lives, and our world. Are you in?
SHOP NOW