Bri Ray's Story: Why this Singer-Songwriter is Speaking Out Against Sexual Violence (VIDEO)
It's ironic that, in our #MeToo world, most people do not understand or recognize the link between porn and violent sexual crimes. Thanks to the growing visibility of existing research, we're starting to see a cultural shift in this understanding, and survivors are stepping out and sharing their stories.
Meet singer and songwriter Bri Ray.
Known for her soulful music and the passion she brings to her creative projects, Bri's story highlights how sexual violence affects even the most confident of people. See how she has overcome sexual assault and learn why she's partnered with Fight the New Drug in spreading awareness on how porn fuels existing issues of gender inequality and sexual violence.
Bri has generously agreed to donate 25% of proceeds from the shirt for "Woman" to our nonprofit organization, Fight the New Drug. Click here to grab a tee and support Bri, and click here to download "Woman."
Need help?
For those reading this who feel they are struggling with pornography, you are not alone. Check out our friends at Fortify, a science-based recovery platform dedicated to helping you find lasting freedom from pornography. Fortify now offers a free experience for both teens and adults. Connect with others, learn about your compulsive behavior, and track your recovery journey. There is hope—sign up today.
Rep The Movement, Start A Conversation.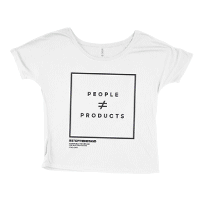 This movement is all about changing the conversation about pornography. When you rep a tee, you can spark meaningful conversation on porn's harms and inspire lasting change in individuals' lives, and our world. Are you in?
SHOP NOW