WATCH: 37-Year-Old Goes Undercover on Instagram as 11-Year-Old—Here's What She Learned About Child Predators
Every parent and teen needs to see this video.
It's no secret that the internet has fueled child sex abuse like never before, and enabled abusers direct access to victims. But what might be lesser-known is just how much social media platforms like Snapchat, Instagram, TikTok, and Facebook are directly giving that unprecedented access to kids.
Meet the Bark team, a company Fight the New Drug has partnered with that advocates for online safety and provides parents the tools and resources to keep their child safe online. One of the coolest and most unique features Bark has to offer is monitoring software that can alert parents to child predators, especially if a grooming process has begun on their child.
To explore the world of social media predators, and learn just how easy it is for child abusers to have unfettered access to minors, the Bark team transformed via photoshop one of their own 37-year-old team members. With various altered images of her, they created fabricated social media profiles of a hypothetical 15-year-old, 12-year-old, and 11-year-old. What they discovered may shock you.
The bottom line is that you can never be too safe, or private, online. Parents need to have open, ongoing, and honest conversations with their kids about online safety and the reality of predators. To read more about this undercover project and what they discovered, read this article.

Need help?
For those reading this who feel they are struggling with pornography, you are not alone. Check out our friends at Fortify, a science-based recovery platform dedicated to helping you find lasting freedom from pornography. Fortify now offers a free experience for both teens and adults. Connect with others, learn about your compulsive behavior, and track your recovery journey. There is hope—sign up today.
Rep The Movement, Start A Conversation.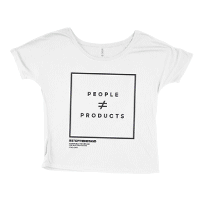 This movement is all about changing the conversation about pornography. When you rep a tee, you can spark meaningful conversation on porn's harms and inspire lasting change in individuals' lives, and our world. Are you in?
SHOP NOW