Meet Annie, Fight the New Drug's 2019 Fighter of the Year (VIDEO)
Meet Annie, Fight the New Drug's 2019 Fighter of the Year.
Annie has one of the coolest and most impactful backstories of getting involved with our organization that we've encountered to date. A junior in college, Annie has done incredible things on her campus to start important conversations about the harms of porn and take away the stigma of struggling with it. Watch this video to get inspired and see how this Fighter is making the movement famous in her community.
To nominate yourself or someone you know for Fighter of the Year, go to ftnd.org/foty.
Need help?
For those reading this who feel they are struggling with pornography, you are not alone. Check out our friends at Fortify, a science-based recovery platform dedicated to helping you find lasting freedom from pornography. Fortify now offers a free experience for both teens and adults. Connect with others, learn about your compulsive behavior, and track your recovery journey. There is hope—sign up today.
Rep The Movement, Start A Conversation.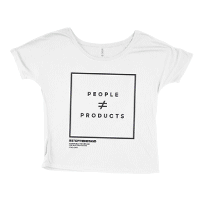 This movement is all about changing the conversation about pornography. When you rep a tee, you can spark meaningful conversation on porn's harms and inspire lasting change in individuals' lives, and our world. Are you in?
SHOP NOW