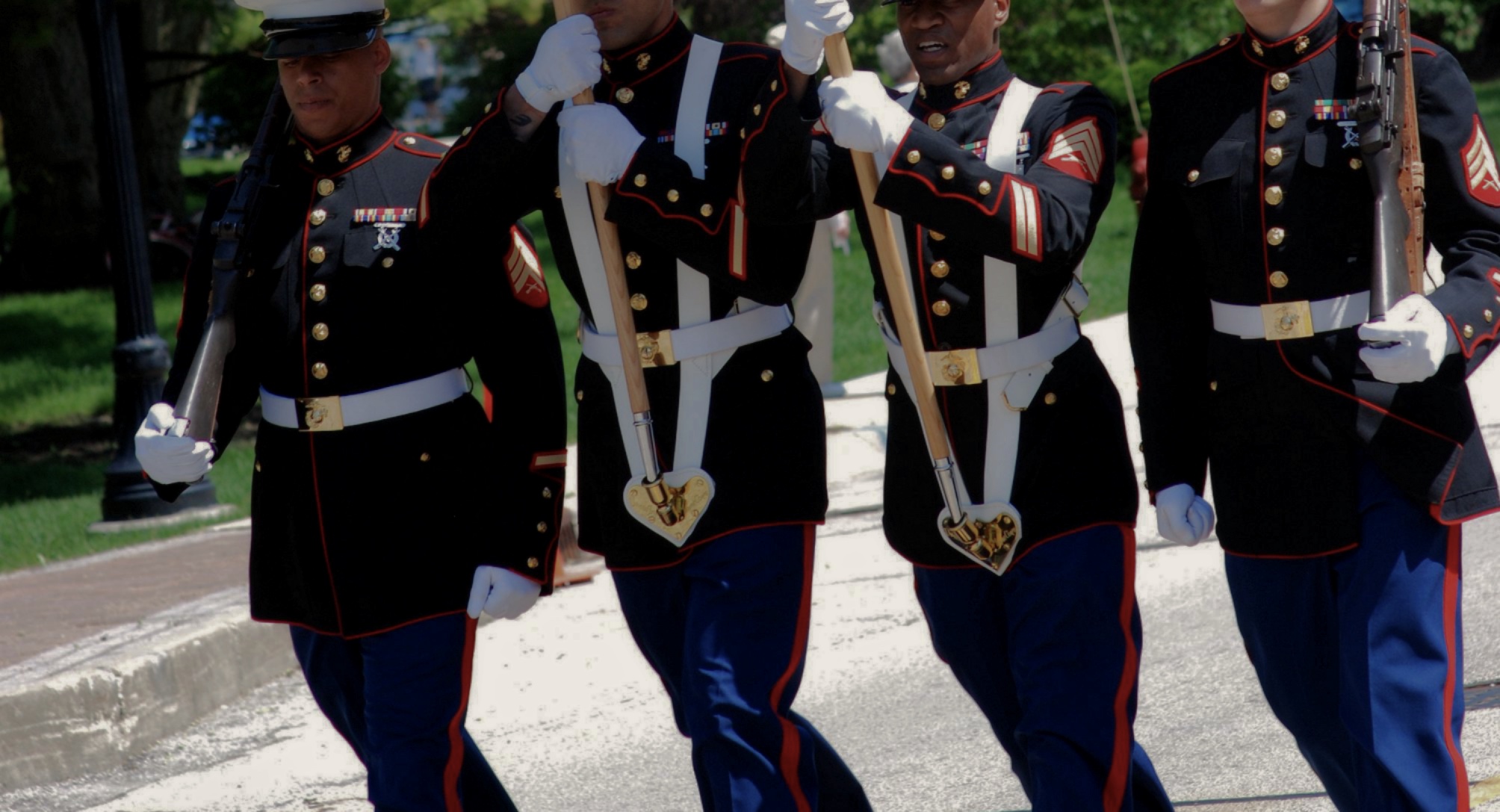 A female soldier in uniform has to pick up her gear at a military training facility in North Carolina. She walks around in the facility and gets her belongings, but she has no idea she's being followed. A fellow male Marine stalks her, photographs her while she's there, and secretly posts the photos to the Facebook group "Marines United," which has nearly 30,000 male-only active Marine and veteran followers.
The casual photos draw dozens of obscene comments, including one user that suggested she be raped and violently sexually assaulted by the Marine who followed her. "Video it though … for science," they commented.
Not cool.
This is just one of dozens of examples of sexual harassment and inappropriate photo-sharing through the now-deleted "Marines United" Facebook group, as first reported by the war and trauma publication, The War Horse. Just yesterday, Marine officials said that The U.S. Department of Defense is investigating the actions of potentially hundreds of soldiers who secretly stole and shared explicit photos of the women who serve alongside them in the giant Facebook group.
This latest scandal shows the growing epidemic of porn culture in the military and armed services.
Exploitation As Entertainment?
Since January 30th, more than two dozen women—many on active duty, including officers and enlisted service members—have been identified by their full name, rank and military duty station in explicit and racy photos posted and linked to from their private Facebook pages. Also shared was a link to a Google drive with more private images that fueled violent and explicit fantasy talk among the Marines who commented, often including calls for raping or sexually assaulting the women in the photos.
Related: Uncovering The Massive Porn Problem In The U.S. Military
The War Horse spoke with five of the women in the photographs, and two said they believe former partners might have leaked the images. A few women said they worry their own accounts might have been hacked, and one said a co-worker, a male Marine, alerted her to the fact that the photographs had been posted.
Some photo-sharers invited others to collect, identify and share photos of naked or scantily clad servicewomen. Based on their profiles, service members who participated in the photo sharing are stationed around the world—from Japan to North Carolina—and across military branches, from air wing to infantry.
Even worse, these private photos where shared less than a month after the first Marine infantry unit was assigned women. This is an example of just how fast the acceptance of this kind of exploitive action can help it spread. Whether that acceptance is conveniently looking the other way or outright participation in the abuse, it's not okay.
Unfortunately, these abusive actions haven't stopped, despite ongoing investigations and the discharge of a few of the photo-sharers.
Related: How Revenge Porn Has Become Digital Sex Slavery
In one instance, "Photos of [one Marine] were taken from her Instagram account and posted to [the Facebook group in question] multiple times in the past six months without her consent," reported the Washington Post. This is an experience that she says will prevent her from ever reenlisting in the future.
Alarmingly, the decorated Marine Corps veteran who originally shed light on this issue has received death threats for uncovering the photo scandal. According to a Marine Corps spokesman, the Naval Criminal Investigative Service is investigating these incidents.
"We need to be brutally honest with ourselves and each other: This behavior hurts fellow Marines, family members, and civilians. It is a direct attack on our ethos and legacy," Sgt. Maj. Ronald L. Green, the most senior enlisted Marine on active duty, wrote in an email response to The War Horse. "It is inconsistent with our Core Values, and it impedes our ability to perform our mission."
"Ultimately we must take a look in the mirror and decide whether we are part of the problem or the solution," he said.
Porn Culture And Rape Culture
The sexual exploitation and nonconsensual image-posting of unsuspecting females is all too common in institutions that are supposed to be places of honor and respect, like college campuses and the military. What could be inspiring soldiers and others to treat women like they're objects to use, trade, and dispose of?
It wouldn't be a stretch to say that porn has fueled attitudes that leads to competitions and group-sharing like this. The rise of porn culture and the acceptance of revenge porn in our generation are main reasons for the popularity and normalization of the idea that people are objects and swapping private, explicit photos is a game to play.
Research shows that porn viewers can have a much higher tendency to objectify those around them. People are people, not parts, and we cannot be okay with anyone being deconstructed and bartered around for points or a few Facebook "likes."
Related: Two Points For Nudes: University Club Suspended For Sick Game That Highlights Rape/Porn Culture
Porn is influencing our generation that sexually exploiting and degrading people is sexy entertainment. It's not hard to make the connection that porn culture has influenced these Marines to believe that consent nor respecting women matter, and sharing sexual images of women with messages of fantasy rape, and even encouragement to video that abuse, is just part of porn and rape culture. Not cool.
If there were ever an example of how nonconsensual explicit imagery fuels rape culture and the normalization of sexual assault, this is it. There's no doubt porn's dehumanizing influence is having a negative effect on individuals, relationships, and society as a whole.
But even with this shocking and unsettling investigation into the Marine Corps, we've also received messages from those in the Armed Forces who are taking a stand while they serve. A U.S. soldier returning from Afghanistan sent us this pic from Al Udeid Air Base in Qatar. Someone had placed a sticker from one of our FTND sticker packs on the side of a building on base:

The harmful effects of sexual assault and a pornography habit are unavoidable, and not only is it unhealthy for our Armed Forces, it's harmful to our society. We're here to raise awareness on the fact that porn culture is anything but harmless entertainment, and urge civilians as well as enlisted military to consider the effects before fueling the demand for porn. Fight for and choose real love, instead.
What YOU Can Do
It is clear that porn in the military has become a huge issue, and is likely contributing to harmful behavior. SHARE this article to add your voice to this conversation and spread the word on the harms of pornography.
– Support the cause, rep the movement. Grab a tee to fight for real love: