If you have seen the news recently, you may have gotten the impression that there's been a growing number of cases related to child exploitation image convictions.
The stats confirm this, too: Thorn reports that the National Center for Missing and Exploited Children reviews an average of 25 million images annually—that's 68,681 images every day. Consider how, in just three years from 2006-2009, there was an increase in almost ⅓ of child sexual abuse material (CSAM)—commonly known as "child pornography"—possession arrests.
Forensic psychologist and researcher Dr. Michael Seto recently said, "The age of children has become increasingly younger, and it's more and more likely that individuals not only have child pornography, but child pornography with violent themes."
Related: Investigation Reveals Sharp Rise In Hidden Links To CSAM On Adult Porn Sites
This is one of the concerning realities of what's currently available in the world of porn. Obviously, not all porn is CSAM, while the "mainstream" sites reflect an increasing interest in younger performers or fantasies involving teens. In fact, there are digital modifications to make a performer appear younger, and makeup and staging can all give the impression of "barely legal" performers.
Whether or not these performers are actually minors or not is sometimes questionable. Statistics consistently reflect this demand for categories promoting "younger" entertainment, such as keywords like "teen" that make up around ⅓ of all internet porn. It may seem crazy to assert that there's relationship between mainstream "adult" entertainment and CSAM, but simply looking at the tendency in what's searched and consumed in recent years, perhaps the line isn't as blurred as we think.
Mainstream porn can drive the demand for illicit material
Just like porn fuels the demand for sex trafficking and sexual exploitation, it also can drive the demand for CSAM as consumers can fuel the demand for younger and more extreme content.
There's undeniably a production market responding to the demand for younger-looking performers, oftentimes actually with minors. What's more is that even in supposedly legal productions, consumers have no way of verifying if performers involved are adults. This is especially true much more now that weaker legal protections are in place to verify if a performer is underage. (Read this article for more info about that.)
Related: How The Porn Industry Quietly Fought To Stop Keeping Official Records Of Performers' Ages—And Won
Let's be clear: we're not saying that everyone who watches porn will absolutely end up consuming CSAM. What is clear, however, is that there is a tendency for even "normal" porn consumption to escalate to something more extreme, violent, and sometimes illegal.
This can happen because the brain becomes accustomed to the same content and requires more extreme forms to continue to be aroused. In one survey, "56% said their tastes in porn had become "increasingly extreme."
Studies show porn also has the ability to change consumers sexual tastes. According to research, things that they thought were disgusting or degrading can start to seem normal, acceptable, and more common than they really are. [1]
Related: Letter From A Sex Offender: How I Went From Vanilla Porn To CSAM
Personal accounts also reflect what research has observed. One personal story we've received describes the story of a boy who started out consuming, "all legal vanilla porn" at 16, yet escalated to his recognizing in his late twenties that his, "tastes changed over time to more extreme content… which led me to my inevitable arrest," due to his downloading of CSAM.
And he isn't alone.

From "normal" porn categories to the illegal
We recently had the chance to sit down with sexologist and psychologist Maria Contreras and talk to her about the impact of porn and how it factors into a fascination with illicit material and behaviors.
She explained to us that the possibility of extreme outcomes exists in cases of pornography addiction. She mentioned that she has worked with cases of consumers who started out with a "vanilla" porn consumption, who eventually ended up in legal entanglements because of CSAM. She says that, obviously, this is not everyone's case; yet, that in cases of porn addiction, it is very common to see consumers who have ended up taking their habits to the extreme. Some have solicited prostituted persons, engaged in sexual chatrooms, consumed extremely violent categories such as rape content, and others have reached the boundary of CSAM.
Related: How To Report CSAM If You Or Someone You Know Sees It Online
"Porn, combined with other factors including family history of addiction, personality, childhood trauma, and the type of affectivity one has toward his or her parents," Contreras said, "is potentially the difference between 'normal' porn consumption and addiction."
What's clear is that once the door is opened to addiction, a lot can happen.
Child sexual exploitation is serious
CSAM is a crime that is heavily punished in most countries. We have yet to run across anyone who would argue it should be legal, yet society permits and promotes an industry that profits increasingly off of selling content that is progressively younger, and in rare cases, has been found to actually promote minors. Yikes.
Related: How Mainstream Porn Fuels Child Exploitation And Sex Trafficking
We can't pretend that no relationship exists between CSAM and the massive industry that hints, even if legally, that "younger is better." If we think CSAM is completely unacceptable, it doesn't make a lot of sense that underage fantasies in mainstream porn can be so accepted.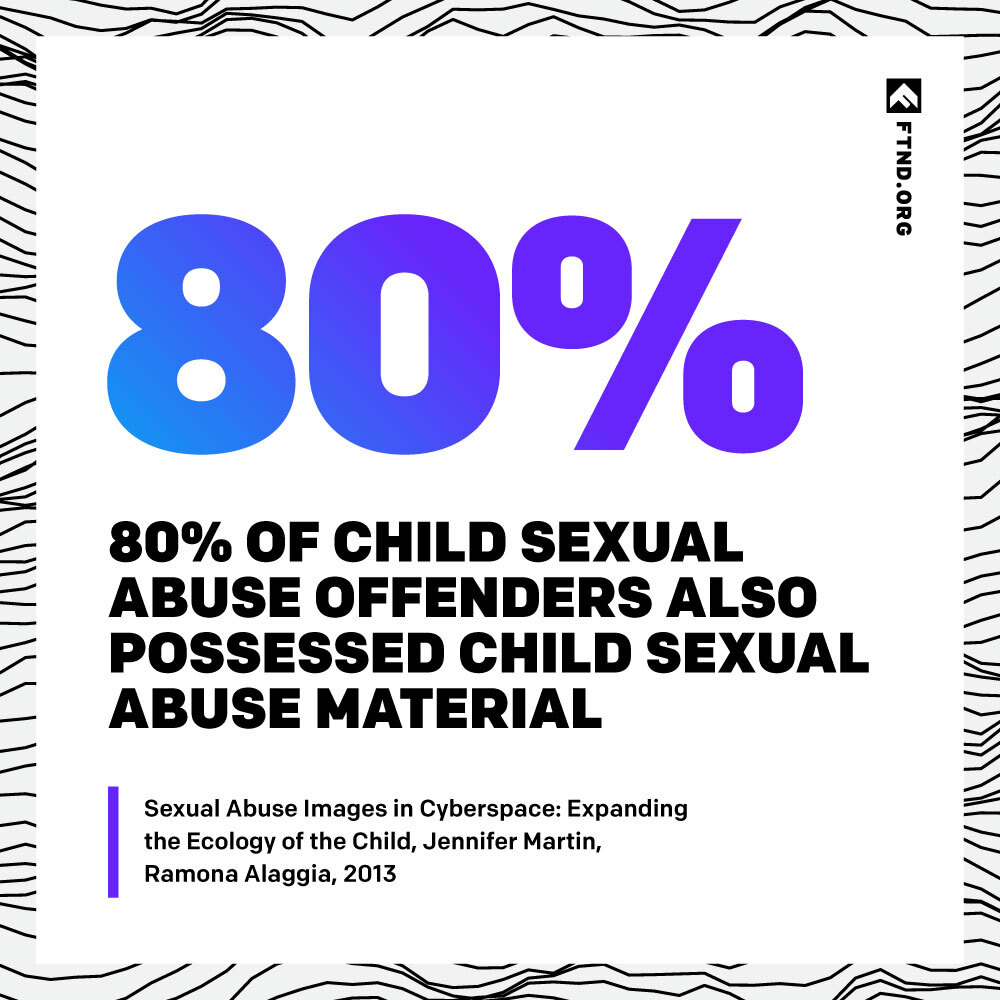 [1] Park, B. Y., et al. (2016). Is Internet Pornography Causing Sexual Dysfunctions? A Review with Clinical Reports. Behavioral Sciences, 6, 17. doi:10.3390/bs6030017; Kalman, T.P. (2008). Clinical Encounters with Internet Pornography. Journal of the American Academy of Psychoanalysis and Dynamic Psychiatry, 36(4) 593-618. doi:10.1521/jaap.2008.36.4.593; Doidge, N. (2007). The Brain That Changes Itself. New York: Penguin Books, (109); Cline, V. B. (2001). Pornography's Effect on Adults and Children. New York: Morality in Media; Zillmann, D. (2000). Influence of Unrestrained Access to Erotica on Adolescents' and Young Adults' Dispositions Toward Sexuality. Journal of Adolescent Health, 27, 2: 41–44. Retrieved from https://www.ncbi.nlm.nih.gov/pubmed/10904205