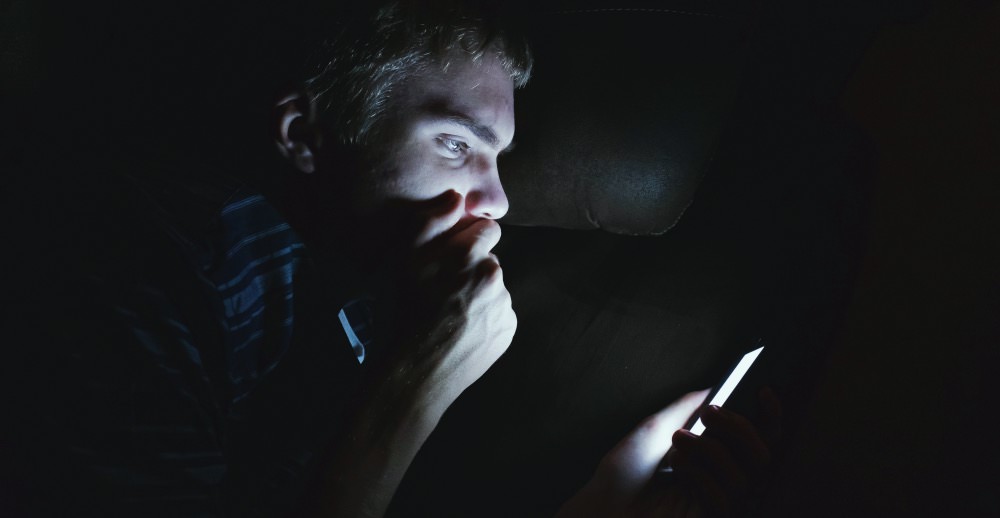 In the world of porn, there is a big difference between consensual content, and nonconsensual content. But how can you tell the difference? Sometimes, content made with trafficking victims or persons who did not consent to have their image shared can end up on porn sites right next to content that was made by professional porn performers (who can also be trafficked and exploited, too).
So the big question is, how can you tell which porn was made consensually, and which porn wasn't? How can you identify sex trafficking victims in porn, or even victims of image-based abuse who didn't want you to see their private photos and videos?
We'll tell you. Ready for the answer?
You can't. And here's why.

The unfortunate truth about nonconsensual porn
A victim of trafficking is not going to turn to the camera and announce they are being trafficked. And yet, unfortunately, images and videos of trafficked individuals often do make their way onto mainstream porn sites where they are indistinguishable from the rest of the content.
Consider this story: one female survivor, whose captor slept on top of her at night so she wouldn't escape, watched her through a hole when she went to the bathroom, and listened to her phone calls with a gun pointed at her head, was forced to appear in a video that made the Sinclair Intimacy Institute's list of "sex-positive productions"! [1] "Every time someone watches that film," she said, "they are watching me being raped."
Related: These Real Examples Of Sex Trafficking And Exploitation In Porn Blend In With What's Mainstream
In fact, even if the victim does register their distress, it's still impossible to know, because rape and abuse-themed porn have now become mainstream.
But aside from that, we have definitive proof that there are videos of trafficked individuals all over mainstream sites right now.
Keep in mind that sex trafficking rarely looks like the movies—young women kidnapped at gunpoint, ferried across national borders, and forced into sexual servitude. The Trafficking Victims Protection Act (TVPA) defines sex trafficking as a commercial sex act "induced by force, fraud, or coercion." This phrase has helped bring awareness to domestic trafficking.
Let's talk about GirlsDoPorn as one example.
Real videos of trafficked individuals—but consumers wouldn't know it
In 2019, a porn company called "GirlsDoPorn" was charged with sex trafficking almost two dozen women in a giant scheme out of San Diego. A few months later, earlier in 2020, 22 Jane Does won a lawsuit against the company for forcing, tricking, and coercing them into shooting porn.
What's the relationship with Pornhub?
GirlsDoPorn was a premium viewshare partner for them, one of the most popular channels on the site, meaning the videos, some of which were found to show 11 of the 22 girls who came forward, were viewed millions of times on the site. The channel was only taken down after the 2019 sex trafficking charges were made of the production company owners, even though the trafficked Jane Does had been begging Pornhub to take down the videos on GirlsDoPorn's channel for years prior.
Pornhub has since removed the videos on their official channel, and marketing indicators related to them, but again, only after the site owners were charged. Videos of the trafficked girls are continuously uploaded, reported, and then removed every couple of weeks, even though it is illegal for anyone to upload those videos to Pornhub now.
Related: "I Didn't Know If They'd Kill Me": What Happened When This Jane Doe Was Trafficked By GirlsDoPorn

Here's a real story from a sex trafficking survivor
We sat down with one of the women who was trafficked by GirlsDoPorn and she told us everything that happened on a trip she agreed to take for what she was told was a fitness modeling job. Here's one part of Jane Doe's story:
In the hotel room, the men who had been handling her took Jane's cell phone and her soon-to-be sexual assailant, Andre, unplugged the hotel telephone. He said they didn't want to be disturbed—he had a justification for everything.
They sat Jane down at the desk and placed a contract in front of her. When she asked to read it, they told her there wasn't time. She requested a copy to be emailed to her and they agreed, but she never received it. The men intimidated her by standing over her shoulder, flipping through the pages, telling Jane where to initial without letting her read the text.
Whenever Jane protested the men coerced her into compliance, saying they canceled her hotel and her return flight. They refused to fly her home unless she complied with everything they said.
Related: 7 Cases Of Nonconsensual Porn And Rape Tapes Pornhub Doesn't Want Consumers To Know About
"Your whole family is going to find out you wanted to do a porn video," Andre said. "Do you really want that?"
There it was. The reality of the situation. She was forced, tricked, and coerced into these circumstances—and now she was being sex trafficked.
Jane estimates they began filming at 9pm and didn't finish until 3 or 4am.
"Basically, I got raped for however many hours that was," Jane said. "It was a constant assault, and it wasn't the least bit gentle. It was brutal."
Two weeks later, a boy Jane went to high school with sent her a picture of his penis with a graphic sexual message. She was shocked and confused.
Then she discovered why. A nearly hour-long video of that agonizing night was released on two major porn websites, including Pornhub. The title included her full legal name.
"I was really scared. I didn't know if they were going to kill me. Watching the video now, I can see it in my eyes. The quivering of my lips and my voice, I know exactly how I was feeling in that moment. But to anyone else who sees it, they see what they want and they think I was complicit," Jane said. "I'm sure most of those viewers were not aware that by watching the videos, they were participating in human trafficking, assault, and rape."
Click here to read the entirety of Jane Doe's story.
Consumers could watch trafficking or rape and not know it
How many porn videos are viewed by individuals who would never dream of contributing to human trafficking, who assumed they were watching the work of consenting performers?
But "consent" is a slippery word in the world of porn. And of all the ways pornography and sex trafficking overlap, the darkest, most surprising secret of all might be this: even in the production of mainstream porn, sex trafficking is a regular occurrence. Remember, it doesn't require kidnapping or threats of violence. All it requires is coercion:
"I was threatened that if I did not do the scene I was going to get sued for lots of money."
"[I] told them to stop but they wouldn't stop until I started to cry and ruined the scene."
"He told me that I had to do it and if I can't, he would charge me and I would lose any other bookings I had because I would make his agency look bad." [2]

None of those quotes is from someone who was chained in a room. None of them are from victims who were beaten into submission or held at gunpoint in some dingy brothel. Each of those actors drove home at the end of the shoot and collected a paycheck. But does it sound like consent? Or does it sound like coercion?
Related: Are Porn Sites Protecting Victims Of Nonconsensual Content? We Investigated, Here's What We Found
This aspect of the porn world is so common, you don't even have to go to anti-pornography websites, or talk to ex-porn performers, to hear about it. Current porn performers tell the same stories. It speaks volumes about the culture and expectations of the porn industry that often, when you hear these same complaints from people still inside the business, they frame them in terms of an "unprofessional" agent, director, or actor.
As a legal matter, under the TVPA, these aren't just people being bad at their jobs; these are potential sex trafficking crimes, punishable by up to twenty years in prison. In fact, according to the United Nations definition of human trafficking, it doesn't even matter whether the victim said no: "the consent of the trafficked person becomes irrelevant whenever any of the 'means' of trafficking [coercion, fraud, threat of force, etc.] are used." [3]
So what's the bottom line, here?
Modern sex trafficking shares a variety of symbiotic connections to pornography. Often they're one and the same.
You can hate a thing. You can be outraged by it. But if you continue to sustain and engage with the industry that helps give it life, what is your outrage worth? Make it count, be a voice against modern-day slavery. Be a voice against sexual exploitation and stop the demand for sex trafficking through pornography.
If you or someone you know has experienced or is currently experiencing sex trafficking, please contact your local authorities or call the National Human Trafficking Hotline at 1 (888) 373-7888, or text the word "HELP" or "INFO" to 233733.

[1] Catharine A. MacKinnon, Are Women Human? (Cambridge, MA: Harvard University Press, 2007)
[2] Hughes, D. (2010). "Sex Trafficking of Women for the Production of Pornography," Citizens Against Trafficking.