Unsurprisingly, this isn't the first time that Cosmopolitan Magazine has been on our radar for normalizing porn. Not long ago, we spoke out about Cosmopolitan featuring an article on their site titled, "The 15 Best Porn Sites For Women." The article started off by saying: "As we all know (because we are women), women enjoy porn just as much as guys do." And it ended by saying: "[We've] gotten especially picky and reviewed the best 15 sites for woman-friendly porn. Now let's broaden our horizons, shall we?" 
That pretty much sums up the type of content you can find from Cosmopolitan.
The magazine released its first issue as a "women's fashion magazine" in 1965 and has continued publishing into 2015 where it is now known almost exclusively for its racy cover models and even racier headlines dealing with sex and porn. The first thing that comes to most peoples' minds when Cosmopolitan is mentioned is the blatantly sexual material that is visible to anyone and everyone at any local grocery or convenience store. Recently, thanks to our friends in Washington D.C. at the National Center on Sexual Exploitation, two major retailers agreed to put protective "blinders" on Cosmopolitan's covers, blocking their explicit sexual headlines and risqué cover models from the view of shoppers of all ages.
Not long after, Cosmo came under our microscope once more. Cosmopolitan has become one of the main stories available for all Snapchatters to view and read up on the latest news. ESPN, The Daily Mail, and MTV are some of the news sources that upload new stories every day for the Snapchat community to view. Among the news that Cosmopolitan shares, they posted an article on their Snapchat for all to see titled:
Once more, Cosmopolitan is normalizing pornography in our society and we were sent screenshots of the harmful (and ridiculous) article. The post began by answering a question from a reader that asked:
This question is a common one from partners of porn viewers/addicts. We receive thousands of emails from partners all over the world who share the overwhelming sense of hurt and betrayal they feel when they learn of their partner's porn habits. They feel as if they are inadequate, not sexy enough, and like they are being cheated on. While our advice is always to have a meaningful discussion about the scientific harms of pornography and don't take anything less than real committed love, Cosmopolitan had different advice for their readers: looking at other naked women is normal so you should just let him do it.
(Related: 10 Reasons Why You Should NOT Let Your Boyfriend Watch Porn)
Although the Snapchat story has since expired, the following screenshots show how far off their advice really is. Here is Cosmopolitan's reply in full (text also below):
Cosmopolitan Reply:
Yep, you're overthinking this.
You're right that there are few human beings that look Kim Kardashian and a lot of guys do fantasize about her. But, even if a lot of people think she's hot, that doesn't mean they aren't also attracted to people who don't #BreakTheInternet. Think about your own fantasies: do you only fantasize about guys who look just like your boyfriend? Are you only attracted to men who have the exact same body type? Be honest. I'm sure the answer is "no."
(FTND Note: Here, Cosmopolitan provides the relationship advice that fantasizing about other people besides your significant other is totally acceptable. To use Cosmo's logic, as long as you don't physically cheat on your partner, you can dream about it and think about it all day long and that's okay.)
There is a huge difference between fantasy and reality. Your boyfriend, like everyone else, is surely turned on by a great many things he will never pursue in real life. Often, the gap between fantasy and reality is much bigger than the simple difference between an improbably curvy celebrity and the girl next door: Sometimes, straight people get turned on by gay porn and vice versa, but it doesn't mean they're always questioning their sexuality or they're going to cheat on their partners. People get turned on by scary or violent fantasies they'd never want to really experience. Hell, people even fantasize about dinosaurs.
Does a woman's vampire fantasy mean that she's not turned on by someone who doesn't suck blood? Does a guy's mermaid fantasy mean that he's turned off by girls with legs? Of course not.
– Cosmopolitan on Snapchat
Wow. We don't even know where to begin. Cosmopolitan would really have us all believe that if our partner is searching the deep web for rape porn, dinosaur porn, or any other sort of twisted sexuality that we shouldn't be concerned about it? Either the person who wrote this for Cosmopolitan has never been in a relationship or just has zero knowledge on the harmful effects of pornography on the brain and in relationships.
Dr. Norman Doidge, a world-renowned psychiatrist, psychoanalyst, and researcher spoke out on the harmful effects of porn on sexuality in his best-selling book, The Brain That Changes Itself. He works at the University of Toronto's Department of Psychiatry and is also on the Research Faculty at Columbia University's Center for Psychoanalytic Training and Research in New York. The following quote from Dr. Doidge's book is one that illustrates perfectly how porn affects the brain:
"Sexual tastes are molded by an individuals experiences and their culture. These tastes are acquired and then wired into the brain. We are unable to distinguish our 'second nature' from our 'original nature' because our neuroplastic brains, once rewired, develop a new nature every bit as biological as our original."
(Related: True Story – How Porn Twisted My Sexuality)
This Snapchat story from Cosmopolitan just reinforces the types of lies that are being told to women all over the world: that your boyfriend/husband/partner is going to look at porn so you should just accept it.
We are here to say that this ideal is completely false.
Research has found that after men are exposed to pornography, they rate themselves as less in love with their partner than men who didn't see any porn. On top of that, another study found that after being exposed to pornographic images, people were more critical of their partner's appearance, sexual curiosity, sexual performance, and displays of affection. Porn kills love isn't just a catchy phrase that we use around here. It's the truth.
That's the other reason that porn damages relationships; it leaves the partner of the porn user feeling betrayed. Several studies have found that partners of porn users often report feeling loss, betrayal, mistrust, devastation, and anger when they learn that the other half of their committed relationship has been using porn. Many show physical symptoms of anxiety and depression due to the issue.
Porn promotes a completely fictional version of how people look and behave sexually and makes it look like an exciting reality—one that their partners often feel they can never live up to.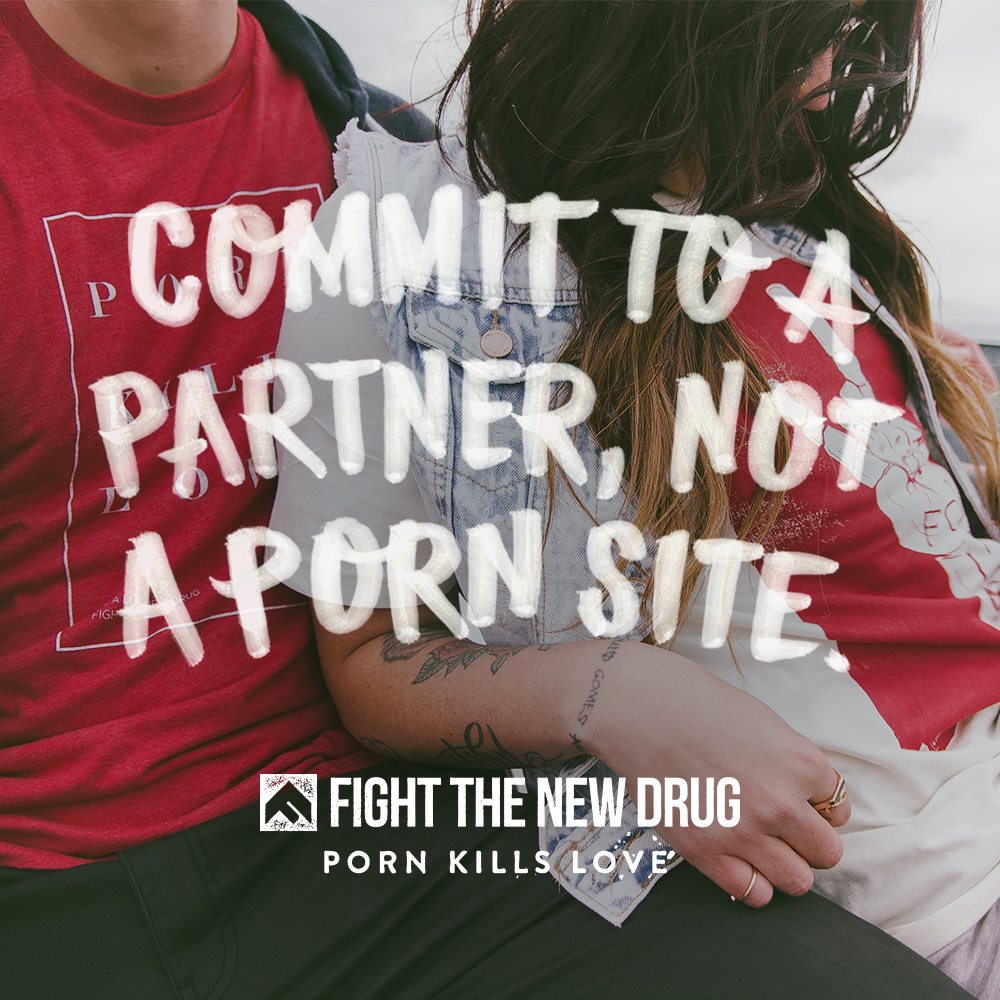 What YOU Can Do
SHARE this article to put an end to the lies concerning pornography in our society. Get educated, take a stand, and fight for real love.
Support the movement, rep a tee. Click here to shop: