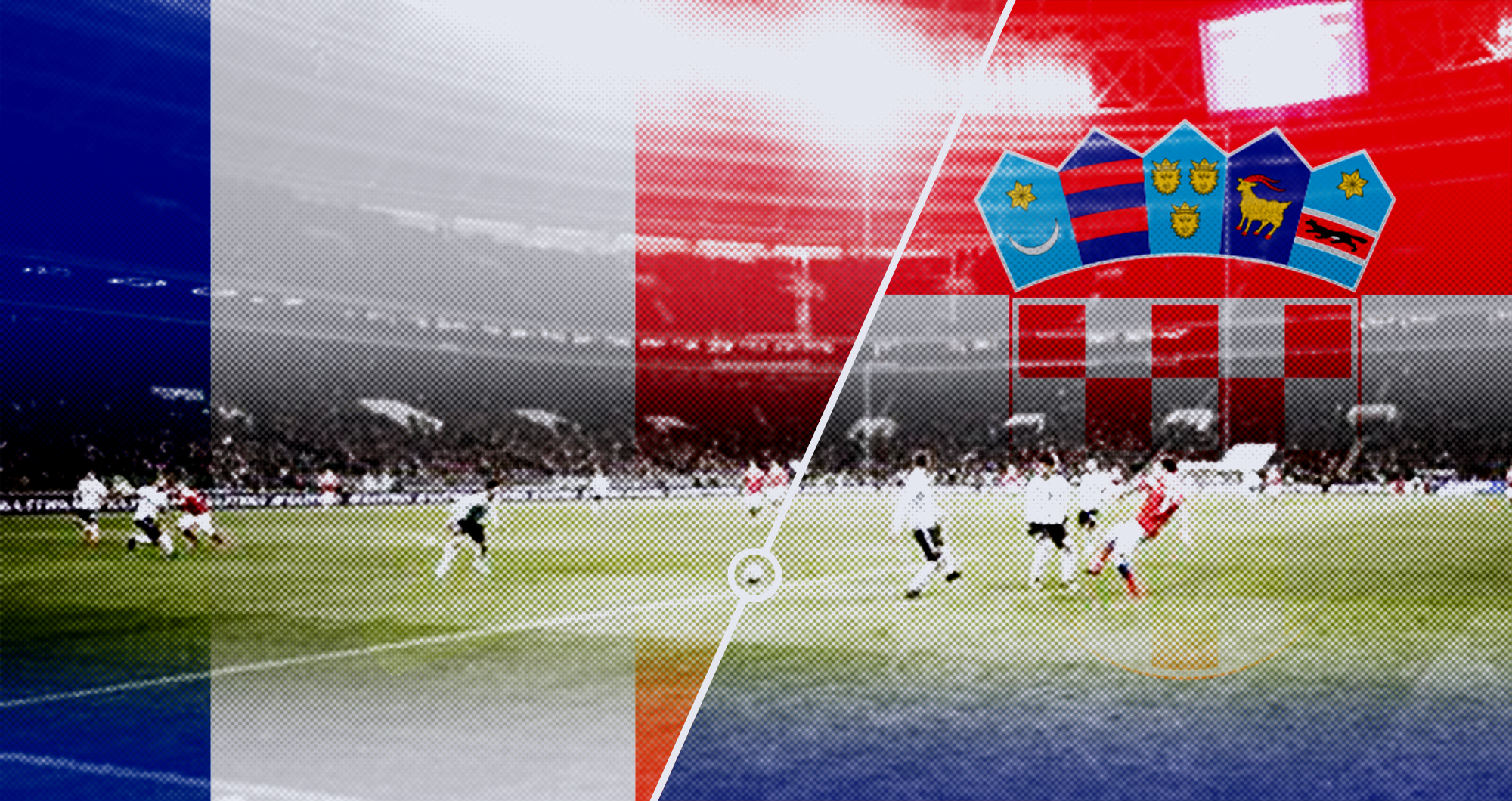 "The World Cup is a gift for traffickers," said Yulia Siluyanova of Alternativa, a Moscow-based anti-slavery organization.
It's no secret that international events like the World Cup that draw huge crowds have long been a hub for trafficking and prostitution, usually with some arrests and countless sting operations taking down the pimps, johns, and traffickers who take advantage of professional soccer's/football's biggest weekend. For the 21st FIFA World Cup throughout the last month in Russia, the trafficking situation has been—unfortunately—no exception.
The World Cup's dark underbelly
Prostitution is reportedly illegal in Russia, but there are around three million regular prostituted persons in the country, according to activist group Silver Rose. Until recently, the group says, the police had turned a blind eye to the practice or taken kickbacks.
But with hundreds of thousands of tourists descending on Russia for the World Cup, the authorities are cracking down on anything that could tarnish their prestige project. For people selling sex in the 11 World Cup host cities, this means frequent raids on well-known prostitution sites, according to a report by The Moscow Times.
Siluyanova says a trial of a new, relaxed visa system Russia implemented for last summer's FIFA Confederations Cup tournament paved the way for an uptick in trafficking activity in the country. The visa system was relaxed again for the World Cup over the last month, and she suspects even more trafficking activity has been going on.
For the foreigners who are brought into the country for trafficking purposes, "half are told that they will be sex workers, the other half that they will be working jobs like babysitting," Siluyanova said, noting that most of the women (and some men) brought to Russia are from West Africa, post-Soviet states and Southeast Asia.
So while the host country is having trafficking troubles of its own, how do the two finalist teams stack up in terms of fighting sexual exploitation? Let's break down a progress report on Croatia and France, and see who's more in the game of fighting for real love.
Croatia

Firstly, check out these rad Fighters who are repping the movement while vacationing in this beautiful finalist country. Cool, right?
But not so cool? Croatia's efforts, or lack thereof, in fighting sexual exploitation and sex trafficking.
The problem is that Croatia is a source, transit, and destination country for men, women and children trafficked across national borders for the purpose of sexual exploitation and forced labor. Croatian females are often trafficked within the country, and women and girls from Serbia, Bosnia, and Herzegovina, and other parts of Eastern Europe are sex trafficked to and through Croatia.
So there are the problems, but what about the solutions? According to 2017's U.S. Department of State's report of worldwide efforts to combat trafficking, Government of Croatia does not fully meet the minimum standards for the elimination of trafficking. Yikes. However, it is making significant efforts to do so.
The Government of Croatia is reportedly implementing its National Plan of Action on Trafficking through a National Committee for the Suppression of Trafficking in Persons.  The trafficking action plan calls for training programs for all professionals working with groups at high risk of trafficking, including children, and schools are to develop curricula on the issue.
And starting in June 2004, a working group on child trafficking was established.  The Child Trafficking Prevention Program is being implemented by the Center for Social Policy Initiatives, a national NGO. Modules have been developed on child trafficking, child exploitation, sexual exploitation of children, child pornography, and the worst forms of child labor.  Teachers have been trained to use the program and a pilot project is underway in elementary schools in Zagreb. The government also works with international organizations to assist trafficking victims, and cooperates with other governments in the region.
Clearly, this destination country has some progress to make in the fight against sexual exploitation, but we applaud their efforts in making whatever progress they can! Note that there are no known programs to educate on the harmful effects of porn…yet.
France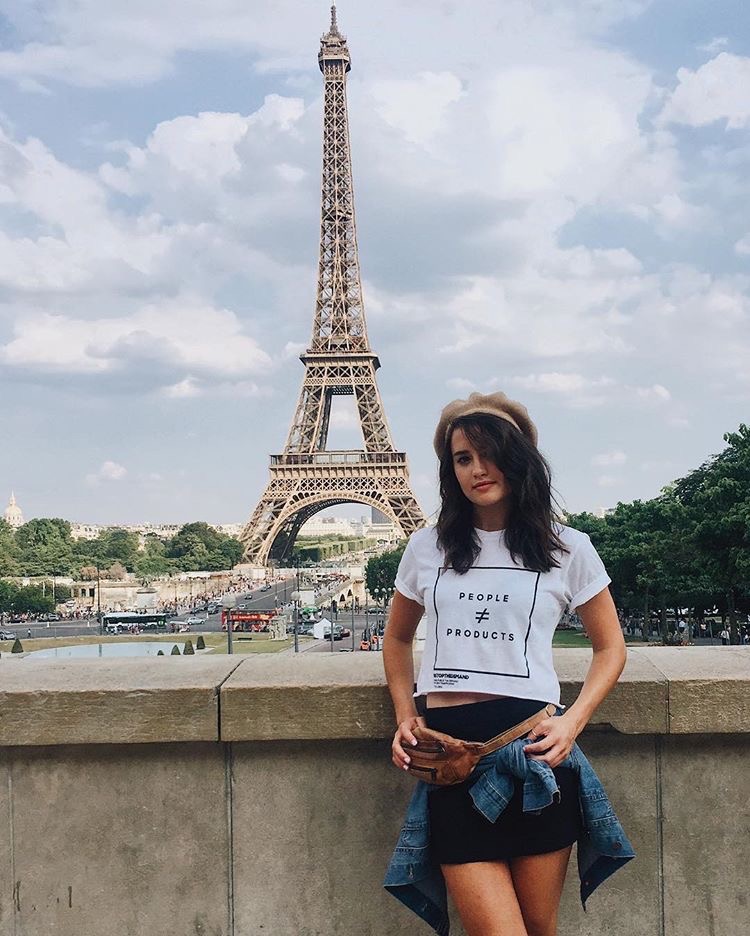 Check out this Fighter's cool pic from France. She repped this global movement for love next to the iconic Eiffel Tower, captioning her IG post with: "The artistry of France + proclaiming this message with every fiber of my being & entirety of my soul."
Rad. Also rad is France's efforts to educate on the harmful effects of porn and fight sexual exploitation, largely instigated by their president, Emmanuel Macron.
According to The Guardian, a "cultural war" against sexism and sexual violence has been launched within in the country, with a five-year emergency plan including educating secondary school children about pornography and simplifying the system for rape and assault victims to go to the police. Cool, right?
Starting next September, children beginning secondary school will be taught about the reality and dangers of pornography, teachers will be trained better to deal with issues raised by pornography, and parents will be advised how to tackle the problems it causes.
As for tackling sex trafficking at a national level, an interministerial mission for the protection of women against violence and the fight against human trafficking (MIPROF) was created in January 2013, with the aim of providing greater protection for trafficking victims.
In May 2014, the government adopted a national action plan against human trafficking with three priorities: the protection of victims, dismantling networks linked to trafficking, and implementing a fully-fledged public policy on this issue. In accordance with law n° 2016-444 of 13 April 2016 which seeks to reinforce the fight against the system of prostitution and to support prostitutes, funds are allocated to help prevent prostitution and to provide social and professional support to victims of prostitution and of human trafficking for the purposes of sexual exploitation.
In other words, this country is scoring some points in the area of fighting human trafficking and educating on the harmful effects of porn, two issues that are interlinked.
The connection between porn and sexual exploitation
We bring the issue of sexual exploitation to light because awareness is a powerful tool. The fact is, this issue is not only global—it's local. And we can't tell you how many people don't believe that one the negative aspects of pornography is how it fuels the demand for prostitution and human sex trafficking. Or that sex trafficking happens here, in the United States, in communities just like yours. Check out this sign from the Las Vegas airport that one of our presenters sent us: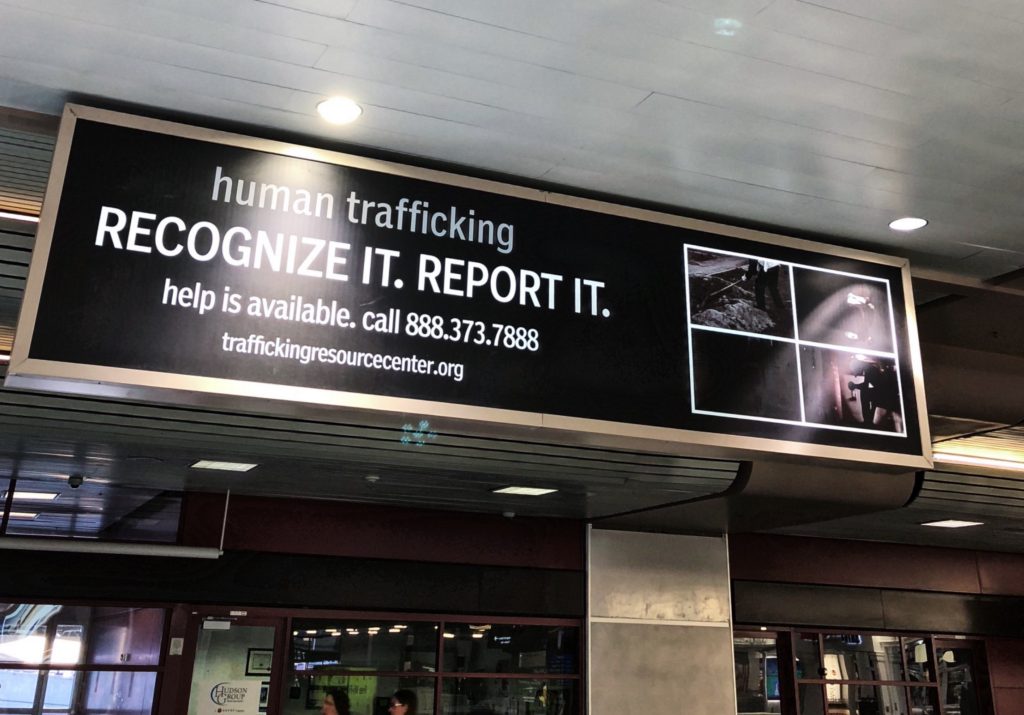 Unfortunately, since sex trafficking is an underground business, those numbers are hard to come by. But a lot of what we do know about the current state of the industry comes from survivors, and they have a lot to say about how widespread this issue is, and how porn was largely connected to or included in their trafficking.
– By some estimates, 4.5 million people are trapped or forced into sexual exploitation globally. (International Labor Organization)

– In one survey, 63% of underage sex trafficking victims said they had been advertised or sold online. (Thorn)
– Sex trafficking is big business—it generates $99 billion annually, just from commercial sexual exploitation alone. (International Labor Organization)
These facts show that not only is sexual exploitation a global crisis, but also, exploiting vulnerable people for profit in the sex industry is a sure way to make a lot of money. And seeing as the porn industry is worth an estimated $97 billion on its own, it's clear why many traffickers choose to capitalize on the dark opportunity.
According to anti-trafficking nonprofit, Rescue:Freedom, in 9 countries, 49% of prostituted women said that pornography was made of them while they were being sold for sex, and 47% said they had been harmed by men who had either forced or tried to force their victims to do things the men had seen in porn.
The reality is that prostitution, sex trafficking, and porn are more closely linked than society would believe. The truth is that sex trafficking is a global issue, and it is only made worse by pornography. Any form of sexual exploitation only fuels the demand for the sex trade as a whole.
 Related: By The Numbers: Which Country Is Watching The Most Internet Porn?
Now, we're not claiming that all porn is non-consensual. We're just pointing out that some of it is and some of it isn't, and when you watch it there's no real way to know what is consensual and what isn't. Just because someone is in porn doesn't mean they're there willingly.
Why This Matters
Because porn is tied to exploitation, we fight to bring awareness to the fact that porn isn't harmless entertainment, and the porn industry wouldn't be where it is today without sexual exploitation around the globe.
Related: How To Identify (And Rescue) A Victim Of Sex Trafficking
The sad truth is that trafficking is everywhere, even in Russia, France, and Croatia. It's in our local neighborhoods, our communities, and even in the people we interact with in regular everyday life. And because of that, each one of us has a responsibility to know the facts, and spot the signs when we see them. Education is power in this fight for love and healthy relationships.
Take up the challenge to be aware and bold in ending the demand for sexual exploitation. We hope to see all these countries get in the game and continue to fight sexual exploitation.
Bottom line:

Get Involved
Sex trafficking is a local issue, as well as an international one. SHARE this article and get the word on the World Cup and porn's connection to sexual exploitation.
Spark Conversations
This movement is all about changing the conversation about pornography. When you rep a tee, you can spark meaningful conversation on porn's harms and inspire lasting change in individuals' lives, and our world. Are you in? Check out all our styles in our online store, or click below to shop: