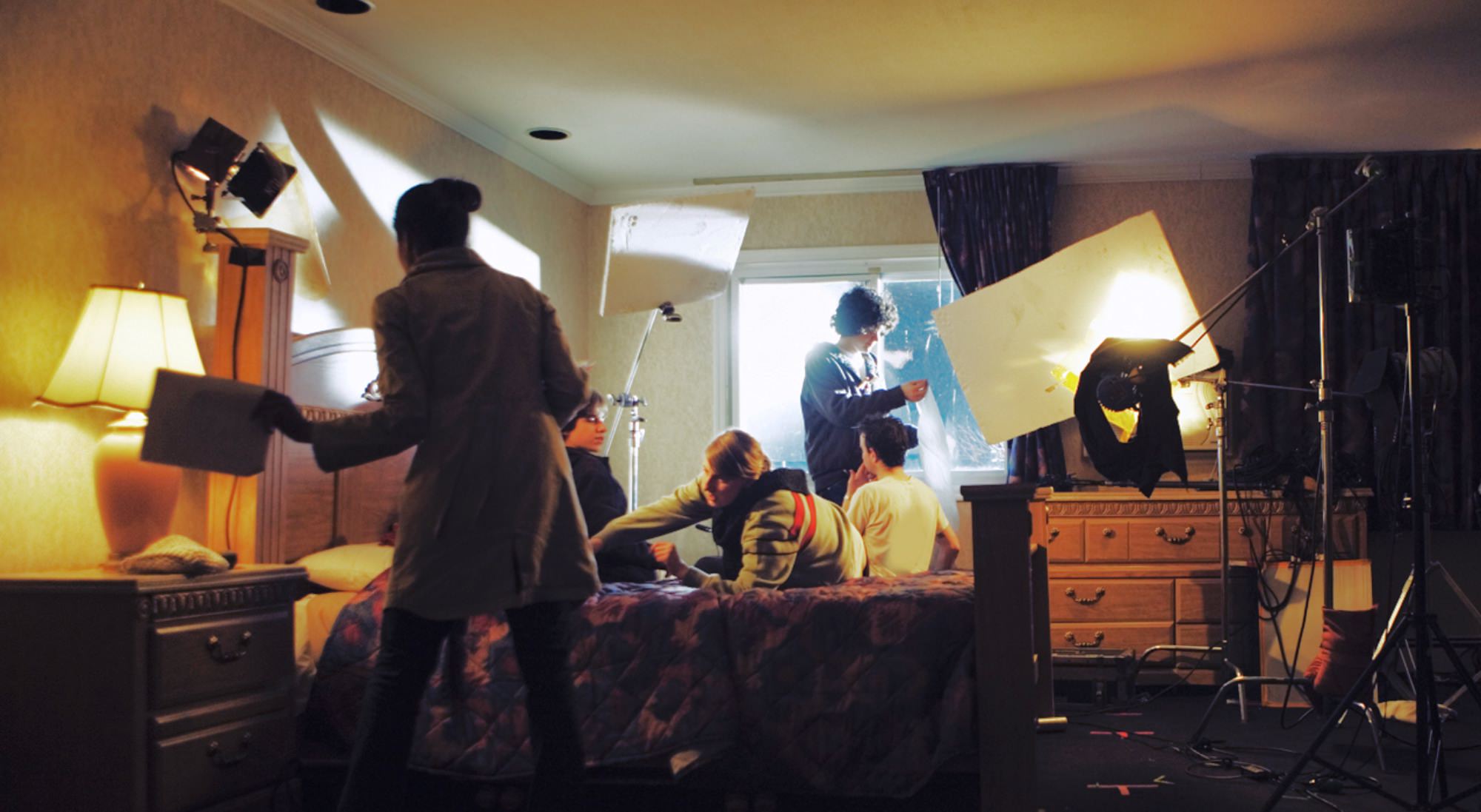 Trigger warning: the following article has been edited but still contains explicit sexual language and references that some might find offensive and/or triggering. Reader discretion is advised.
This article was originally posted on Men's Health in 2015 by Adam Glasser. It has been edited for content and length.
To the typical civilian watching porn, the performers can come across as sexual superheroes. I know this because I was once a civilian watching a lot of porn. I still remember the thoughts that ran through my head back then. "How does he do that? Jeez, his penis is big! Wow, look at her perfect body! She's insatiable!"
And that's a good thing. As a director, I hope that's what consumers are thinking when watching one of my movies. I plan, cast, shoot, direct, and edit them specifically to induce those type of thoughts. I create fantasies.
Related:  Emails Between A Veteran And Rookie Porn Producer
The problems start when consumers forget that these are fantasies and lose perspective. They have insecurities about themselves and their own sexual abilities. They start thinking things like, "I wish I was that big! I wish my girlfriend would do that! I wish I could be that spontaneous and ready-to-go on demand!"
Well, guess what? The porn you see on your computer or TV screens aren't an accurate reflection of what happens in real life. And I don't just mean your life, I'm talking about the porn actors creating all that impossible sex you're watching. You're only seeing a small fraction of what really went on.
Prepare to learn some hard truths.

Exaggerated Body Parts
Yes, most of the male performers in porn are large. You may be impressed with their size, but you know who isn't as excited by it? The women in porn. There is only a certain percentage of women who can actually handle and enjoy an abnormally large guy.
I encounter situations like this constantly when I'm filming, and I see the signs when I watch others' adult movies. There's the obvious grimace of pain on the actress' face—because he's way too big for her and it hurts. I usually edit out these "pain indicators," because at least for me, it's distracting. It takes away from the fantasy and just reminds you that these are actors doing a job, and sometimes that job can be a pain.

Marathon Sex
We have become accustomed to watching porn studs have sex with their co-stars for anywhere from 20 to 60 minutes. What you don't see is what happens before the cameras start rolling. Like the pill popping and penis injecting. In my experience, 95% of the male performers use some sort of erectile enhancement medication, and the ones who don't are at the bottom of the totem pole.
You only see the finished product, so you don't see all the stopping and starting that happens during a shoot. You don't see the breaks to eat and drink, or catch their breath, or regain an erection, which could also mean popping another pill or sticking another needle. There are bathroom breaks and re-lubing breaks and still-picture-taking breaks. It's endless. Truth be told, neither the male or female performers are actually going at it non-stop for anywhere near the periods of time that it seems.
Related:  21 Year Old – I Had Porn Induced Erectile Dysfunction
And while many of the male performers are able to last an abnormally long time, under what seems to be the most pleasurable of circumstances, there are consequences. I dare any man to have sex for long periods of time, 6 to 7 days per week, over a 60-day period. See what happens to you. Now imagine engaging in that amount of sexual activity over a period of years.
With such a workload placed on it, the male performers become desensitized to the point where many of them can't actually orgasm while having sex. Some eventually develop a tolerance for the erectile dysfunction medications and can't get it up at all, for work or play.

Spontaneous Anal Sex
Sex in porn is designed to look spontaneous, but nothing could be further from the truth. Especially when it comes to anal sex.
Before a scene, female performers have a lot of advance prep, from doing several enemas to reducing or eliminating food consumption anywhere between 4 to 12 hours before their call time. Think about that the next time you're watching [this genre of] porn—the actress is probably starving (on the set, we can almost hear her stomach growling) and she's had more enemas that morning than the residents of a nursing home.
Insatiable Sex Drive
Sure, there are female performers in it purely for the sex, but they are few and far between. My experience tells me that the majority of women are in porn for the money first, followed closely by the "fame," then the freedom, and then the sex. Some of them don't enjoy any of the sex. Some of them are strictly heterosexual and don't enjoy other girls. Some are lesbians and don't enjoy sex with guys. Some of them find many of the people they are asked to have sex with unattractive.
Related Video: Jessica's Story – My Life As A Porn Star
But they do it anyway, and they do it well. They have learned to fake it. Directors ultimately don't care as long as the performer has the ability to "act" as if she's enjoying everything she's doing, which the successful ones do. We know that with good shooting and some creative editing, you'll never be able to tell the difference.

Sex Without Condoms
Despite the fact that all performers are tested every 14 to 30 days, curable STD's are rampant within the industry. I know of some performers who catch them so often, they have developed a tolerance for the treatment medications. This is not an indictment of the individuals involved, it is simply a numbers game.
Any individual, in any setting, under any circumstances, who have had as much random unprotected sex as a porn star would experience the same.
________________________

Why This Matters
This real look at the reality of what happens on a porn set only adds to the fact that porn is an unhealthy, exaggerated fantasy with harmful effects.
Porn is one big lie that appears to be full of pleasure, but as you can see in reality, it's an empty world of drugs, disease, and abuse. Porn offers nothing even close to real relationships and real, authentic sexuality. It's all a total act, and completely fake. Even the "pleasure" is completely fake.
Given the STD rate and drug abuse, it's clear porn isn't the healthiest environment for performers—and it isn't the healthiest product for consumers, either. Research is showing that people that are regularly exposed to porn are more likely than others to feel poorly about how they look and feel worse about how their partner looks.
Related: Award-Winning Male Performer Reveals Difficult Realities Of Doing Porn
Compare this nightmarish "fantasy" to the reality of real love. A real romantic relationship is about being with a person, getting to know them, falling in love with them, and having sex that bonds that relationship. With love, there's honesty, authenticity, and healthy desire. With porn, however, sex is an extreme, exaggerated act that performers have to suffer through a lot of the time. And for consumers on the other side of the screen, it's about constantly searching for something new, constantly being shocked and surprised, and constantly being disappointed when real life doesn't measure up to synthetic fantasy.
Take it from us. Watching isn't worth it. It isn't worth contributing to this shady, unhealthy industry, and it isn't worth contributing for the sake of your own sexual health. Keep it real, and ditch the porn.