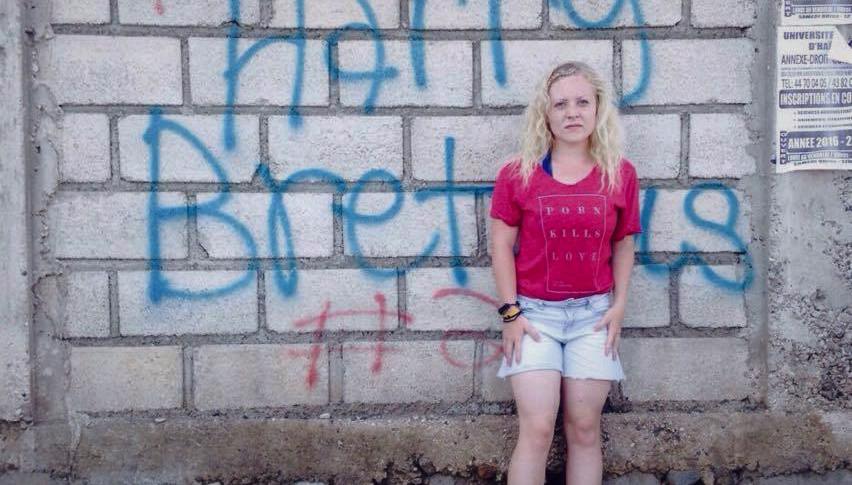 FTND Note: We would like to start off by saying that not having access to clean water is a huge global problem, and we are so glad there are organizations out there working to change that, such as The Water Project and Care. That being said, we think it's important for all of us to realize just how prevalent porn has become in our world. So much so, there is literally a greater demand for it and more access to it than clean water.
---
Before the well-known earthquake struck Port-au-Prince, Haiti, in 2010, over one-third of the population of Haiti did not have access to clean water.  After the quake, people fled the sites of destruction, many leaving safe sources of water behind. Now, according to the organization The World Bank, since 2015, less than half of Haitians have access to water, let alone clean water.
Many charity organizations have been working to bring safe water to this country, but a lot of combined effort had to be put in to bring water to these people. And Haiti is not alone in this struggle. In fact, one-third of the world's population does not have access to adequate sanitation, and 663 million people worldwide live without clean water.
So, what do these heartbreaking stats have to do with the fight against pornography?
Meet Lexi.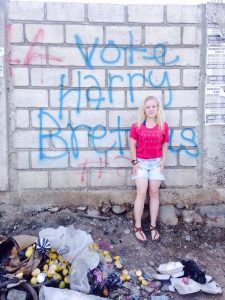 A few months ago, we received a heartbreaking story from this awesome Fighter, and she told us her experience of finding porn in the most unlikely of places.
A Sad Reality
Last summer, Lexi was living in rural Haiti, helping to teach basic health principles and English to the local people through programs.
"Throughout my time in Haiti I came to better understand the definition of poverty—what it means to literally be starving for survival," she told us. "To see the hunger within the eyes of children, to see a young girl divide a glass of water amongst her siblings, or an old man digging through trash to find something to eat for the day."
Related: Why I Told Total Strangers In Serbia About My Struggle With Porn
She never expected to find pornography in a place where people were scrambling for survival, but she was proven wrong.
"Within a village that doesn't have electricity, that does not have running water, that does not have a waste system, that has the bare minimum in technology, and the only opportunity for small cell service is to make the hour hike to the top of the mountain; I was sure that the chance of pornography being within these mountains did not exist. I hoped, with all my heart, that life-deterring pornography would not enter this country and destroy their sweet tender innocents… I was quickly proven wrong."
Lexi saw men and women, boys and girls of all ages gathered around small phone screens scattered throughout the isolated town—just to watch pornography.
"This village, this country, that does not have electricity in many parts, that does not have running water, that does not have enough food, that does not have the necessities of survival…has porn," she said. "This is not just a national epidemic, but a global one."

She's right. According to NBC News, porn is a $97 billion industry worldwide. Its marketing has forced its way into countries that don't even have access to clean water or electricity, and the most explicit hardcore material possible can be accessed by anyone with an internet signal and a screen.
Related: Reddit Users Try Introducing Porn To Remote African Tribe, Their Reply Is Perfect
And while the widespread consumption of porn isn't a physical disaster that tears apart cities and towns, it isn't at all harmless. With the prevalence of pornography comes the private, hidden destruction of minds, bodies, and relationships all over the world. Porn attacks the thing that's universally wanted and needed everywhere for a thriving life: love.
And while porn is a pretty massive issue, luckily we have Fighters all over the world who are speaking out and fighting for healthy relationships.
When Lexi visited Haiti again, she repped the movement by wearing her Porn Kills Love shirt into one of the most populated cities. And when she hoped it would be better the second time around?
"I had hoped that when I arrived in Haiti this second time that the consumption of porn would not have gotten worse. I was wrong."
How You Can Help
It's heartbreaking that so many places around the world have been influenced by the porn industry, and yet so many consumers don't know all the ways they are harming themselves by engaging with the toxicity of pornography.
Related: Fighters Repping The Movement All Over The World (PHOTOS)
This is why the fight is so important. Yes, porn is everywhere. Stopping or even controlling the availability of pornography isn't really realistic (and it's also not our aim as an organization). And because it's pretty much everywhere, no matter how much you try to avoid it, odds say you'll be exposed eventually. But, what you can do is use your voice in your community to educate and raise awareness on the harmful effects of pornography. And while education won't make the problem disappear right away, it's a place to start. After all, just because porn is everywhere doesn't mean the facts can't be, too.
Change started with that community in Haiti because Lexi was bold in repping her Porn Kills Love tee and speaking out in love. It can start in your city by you posting up the facts in your local coffee shop, or repping a tee to your grocery store. After all, there are over 1.5 million Fighters on almost every continent on the planet, and we're already seeing entire communities change because of one person. Imagine if each of us made it a point to spread the facts to those around us and spark conversations to those who need to hear the facts.
Together, if we speak up collectively about porn's harms, our voices are loud. We can change things, and make a real difference. You with us?

What YOU Can Do
If you believe that everywhere that has access to porn should also have access to the facts about how it harms, SHARE this article.
Spark Conversations
This movement is all about changing the conversation about pornography. When you rep a tee, you can spark conversation on porn's harms and inspire lasting change in individuals' lives. Are you in? Check out all our styles in our online store, or click below to shop: