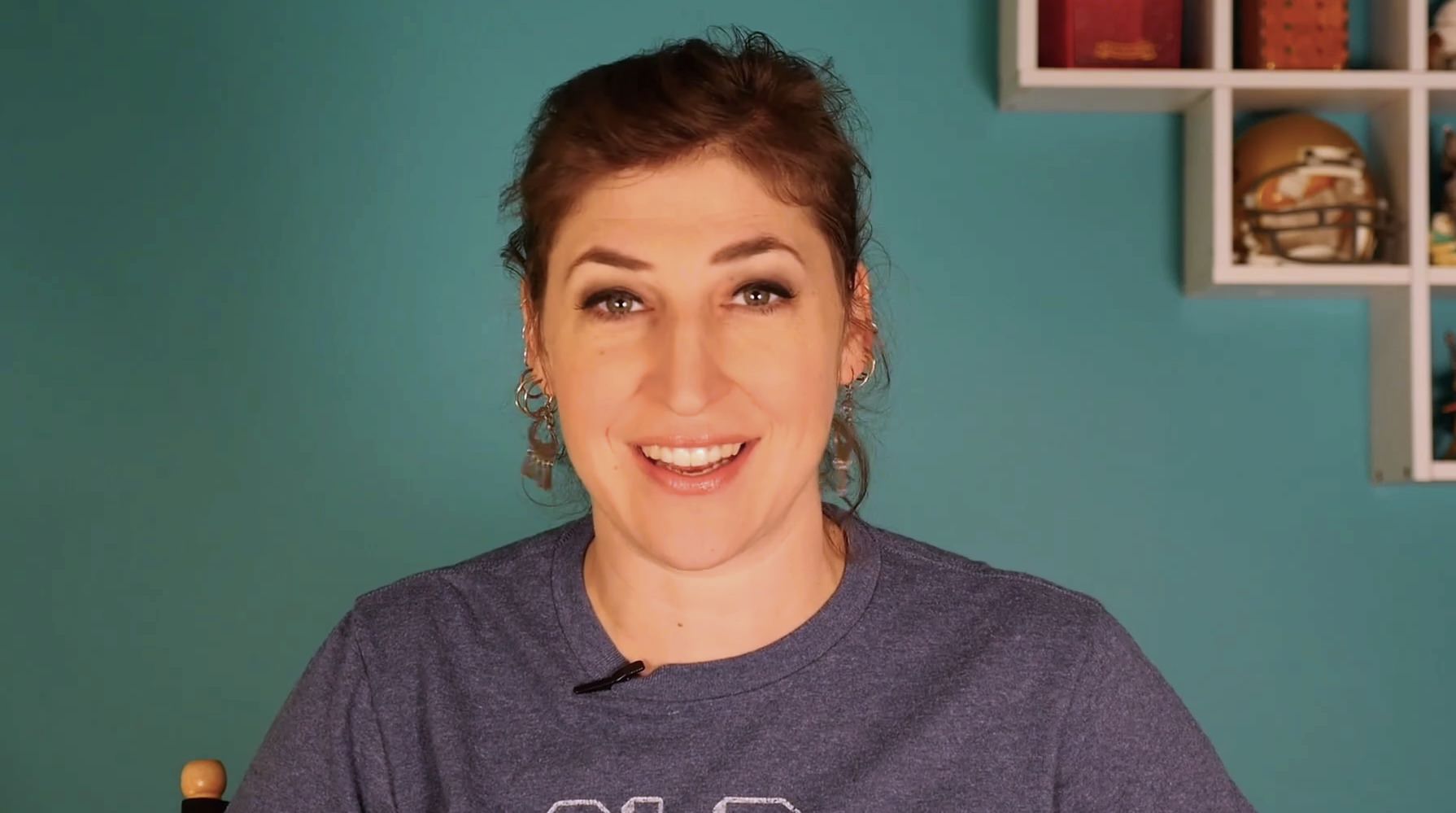 What would you say if you learned that the words we use in our every day conversations actually shape the way we perceive the world around us? Seems pretty, crazy, right?
The thing is, this is an idea that's pretty well agreed to be true. The theory that language can influence the way we see and understand our environment is called linguistic relativity, and it's been around in one way or another since the heyday of the Greek philosophers.
Now, the age of an idea is no guarantee of correctness—remember when the Earth was flat and at the center of the universe?—but in this case, we've had several thousand years to ponder whether language and experience are related, and we can be pretty sure that they are.
Enter Mayim Bialik. If you're a big fan of '90s TV (yeah, us neither *sarcasm*), you might remember her as Blossom, but more likely you know her as Amy from The Big Bang Theory. She's pretty smart on TV, but Mayim is probably even smarter in real life—she has a PhD in neuroscience, and she's not shy about sharing what she's thinking about.
Words Matter
Recently, Mayim posted a video about linguistic relativity, focusing on a topic we think is really important and relevant to the fight against porn: the (unintended) consequences of calling women girls.
"It matters what we call people. Language matters," says Mayim. "The way we use words changes the way we frame things in our mind."
More specifically, it's called The Sapir-Whorf Hypothesis, as she says in the video, and this is what it means:
"The principle of linguistic relativity holds that the structure of a language affects its speakers' world view or cognition." Or, in plain English, it means that the terms or words you might use to describe something affects (or reveals) the intended/unintended way you think about that thing or person.
And Mayim makes an excellent point: "When we use words to describe women that are typically used to describe children, it changes the way we view women—even unconsciously. It implies that women are inferior to men."
Sound familiar, like what porn culture teaches viewers about women?
The Hidden Language of Porn
Mayim's video wasn't about sexual exploitation or porn, but let's think for a second about how this absolutely applies to porn and porn culture.
In the porn industry, women are hardly ever referred to as women—they're always called "girls." Real-life example: refer to the Netflix documentary about amateur porn, called Hot Girls Wanted. Porn producers and directors refer to "girls" over and over, but hardly ever use the word "women." Not to mention that thinking of actual underage girls as "girls" in the pornographic sense, we're blurring the lines to where we're actually talking about women and underage girls with the same broad brush. You see, that gets messy, especially considering the prevalence of child porn and underage "teen" porn.
Is this an innocent mistake, or a "tool of the trade" that's used to preserve a structure in which women (and also the actual underage girls) are exploited, attacked, and harmed for profit?
Yes, context matters, but we need to start realizing what we're doing as a society when we call women "girls," even if the people who call women "girls" don't consciously know what they're doing or intend any harm. And for the porn industry powers at be, you better believe it's not a mistake, and there's a reason they're doing it.
"The words we use to describe women," says Mayim, "assume a structure of power in which men are on the top and women are on the bottom." In other words, by calling women "girls", society is reinforcing the idea that women are worth less than men, that they're less important, and that they're not capable of contributing as much to society.
In an industry where men are the dominant force and men primarily call the shots (a 2008 academic study found that just 4-5% of porn directors are women), it's not surprising that the power structure is constructed to keep women at the bottom of the totem pole. In porn, women are viewed as discardable, replaceable sexual objects and tools to be used to make money, and not, as Mayim says, "complicated, wonderful, unique, (and) gifted beings."
The fact is, it can be easier to care less about the exploitation and degradation of real humans when you don't completely respect them very much as people or regard them as equal, even on a subconscious level. And that's not okay.
Porn Actively Devalues Women [And Men]
Porn isn't just an example of linguistic relativity in action—it's also a tool that is used to spread this disturbing reality around the world.
People watched nearly 200 million DAYS worth of porn on a single popular porn website in 2016, which is an insane amount. When you realize that a vast majority of those hours, minutes, and seconds reinforced the idea that women are significantly less valuable than men and "sexily" serve as recipients of abuse and degradation, what sort of harm is that causing? Why are we casually participating in something that actively devalues half of the world's population, and objectifies everyone involved? If this is how society chooses to spend its down time, and given what we know about porn's objectification and its connection to violence, it's little wonder that young girls are being treated like porn stars, women are being objectified more than ever, and domestic violence is on the rise.
This isn't the world we want to live in. We want to be a part of a society that believes in love, and real love can only happen when people value and respect each other as equals, not when anyone is seen as less valuable or inferior.
Let's Change The Status Quo
Maybe worst of all, the subconscious belief that women are inferior can affect women and girls too, when they've been exposed to it over and over and over. As Mayim says, "We start to believe that the way things are is the way they have to be," and that makes it even harder to escape the patterns of oppression and exploitation that are the calling cards of porn.
And as Taina Bien-Aimé, Executive Director of Coalition Against Trafficking In Women (CATW), says, "As long as men consume pornography, as long as they can consume a woman in the sex trade, we will not have gender equality. They will not perceive any woman as equal to them. They will always be purchasable, always be objectified, always be sexualized to the detriment of our hopefully common quest to reach equality between men and women."
This is why we fight. Let's start breaking the chains. Each one of us has a part to play in stopping the demand for sexual exploitation. If we all pledge to call women what they are and not devalue them by calling them girls, we can start building a world in which everybody is valued and respected equally—that's the kind of place we want to live in.