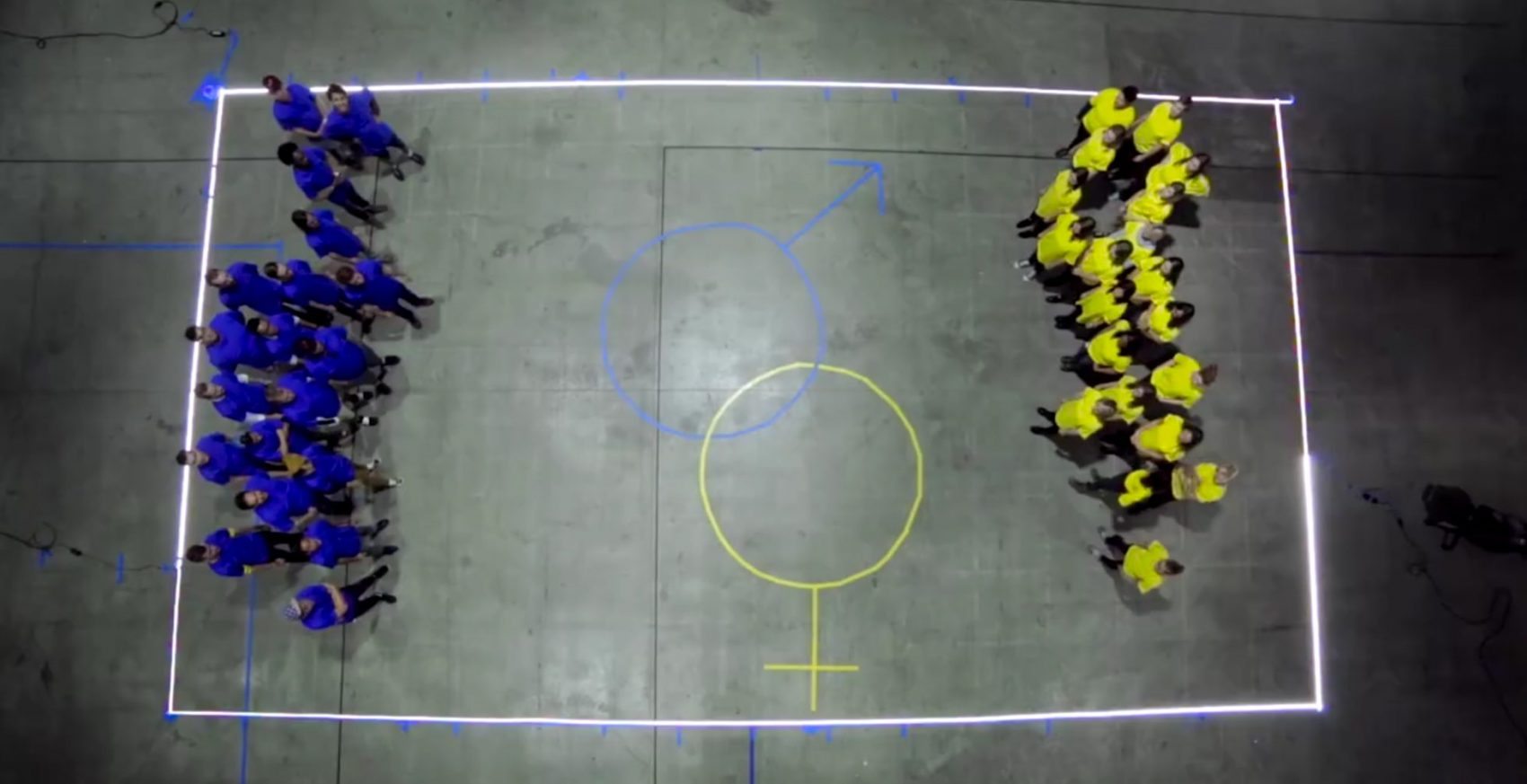 We'll be the first to say that we have a love/hate relationship with BuzzFeed. While no one on the internet has quite mastered shareable articles/videos like these viral online content creators, they often use that power for bad as much as they do for good.
BuzzFeed's Bad Habit
While we have seen many lists/videos from BuzzFeed that had us laughing in agreement because they were just too true, we have seen many that are entirely uncool. Particularly lately, BuzzFeed has gotten into a bad habit of normalizing porn to millions of people. In 2014, we called them out before for telling people it was good for them to watch porn and then again this year when they started producing videos like Men Watch Porn Next To Porn Stars, Couples Watch Hardcore Porn, and the ironic Porn Stars Give Relationship Advice.
Related: BuzzFeed Says Porn Is Good For You (It's Not)
Most recently, BuzzFeed released a new video titled, 48 People Answer The Toughest Questions About Modern Dating. The video starts off by showing a group of 24 women and a group of 24 men standing on two sides of a giant open warehouse floor. They are asked to stand on one side for 'yes' and the other for 'no' when asked questions about dating in this day and age.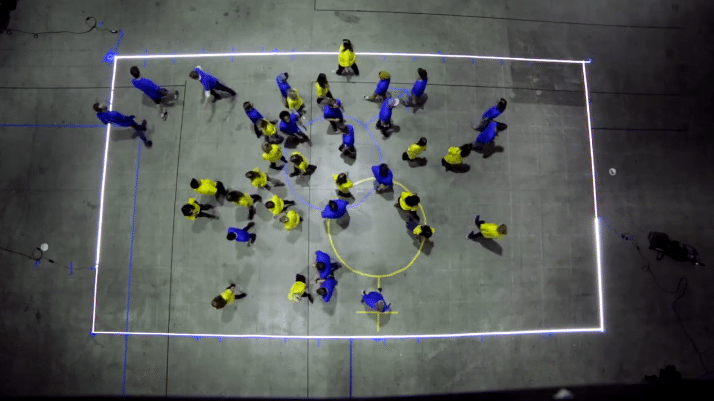 Questions varied from "Do you believe in love at first sight?" to "Would you date someone your friends don't like?" The questions were all seemingly harmless and fairly entertaining to watch these guys and girls from our generation takes sides that seemingly reflect how we feel ourselves.
However, BuzzFeed reverted back to their harmful ways when they ask the question they saved for last: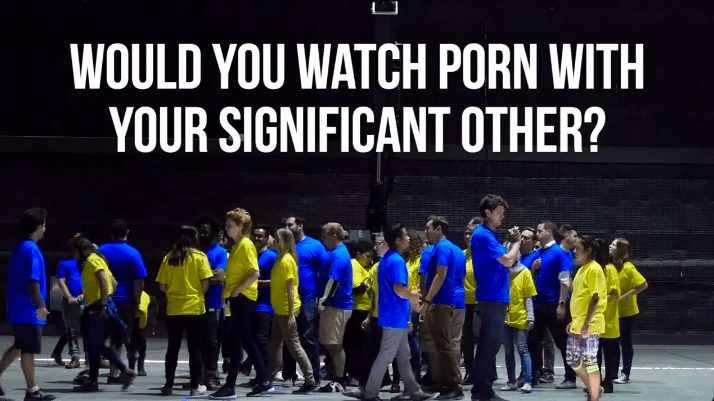 The answer was extremely troubling and shows just how normalized pornography has become in our society. The participants started moving and it became clear that the majority were headed in one particular direction: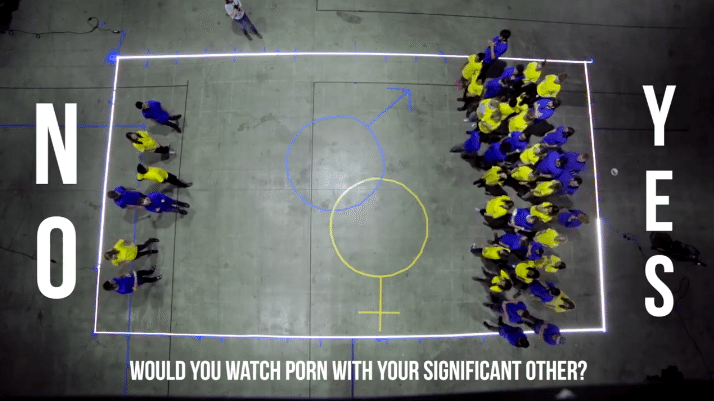 The Pornification Of The Next Generation
Out of the group of 48 guys and girls, 42 of them said that they would watch porn with their significant other. Just 6 lone people were left standing on the side of 'no', saying they wouldn't do it. A soundbite from the audio of the 'yes' group even has one girl saying, "That s*** was like second date, right there."
Really? Second date with a potential partner and you watched porn with them? Now, we realize she may have been joking or exaggerating, but that statement alone just shows how harmless or even comical our generation believes porn to be. It's not.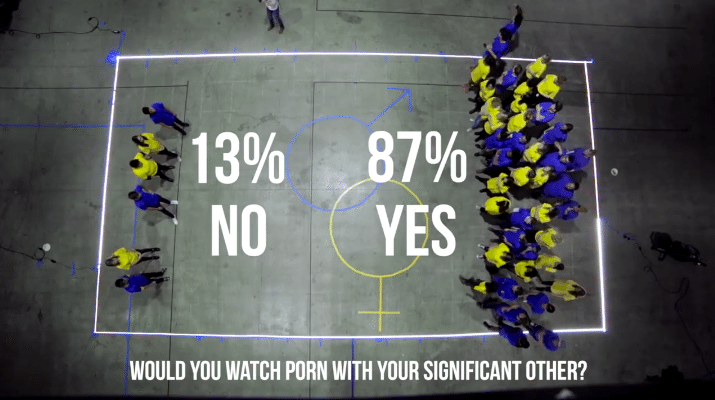 When Society Takes A Look In The Mirror
This video from BuzzFeed shows a disturbing truth in our society and just reinforces the myth that has been sold to our generation: porn is normal, harmless, and even natural. We are here to say that this ideal is completely false. Yes, it's totally natural to be attracted to porn because of the sexual nature every human is wired with. But that doesn't mean that it positively enhances the viewer's natural sexuality, or is harmless in its proven effects.
The fact is, porn reshapes expectations about sex and attraction by presenting an unrealistic picture. In porn, women always look their best. They are forever young, surgically enhanced, airbrushed, and Photoshopped to perfection. [1] So it's not hard to see why, according to a national poll, six out of seven women believe that porn has changed men's expectations of how women should look. [2] As writer Naomi Wolf points out about our generation's massive exposure to porn, "Today real naked women are just bad porn." [3]
Related: How Porn Can Hurt Your Sexual Partner
Porn kills love isn't just a catchy phrase that we use around here. It's the truth.
Research also shows that porn users report less love and trust in their relationships, are more prone to separation and divorce, and often see marriage as a "constraint." [4] Overall, they are less committed to their partners, [5] less satisfied in their relationships, [6] and more cynical about love and relationships in general. [7] They also have poorer communication with their partners and are more likely to agree that, in their own relationships, "little arguments escalate into ugly fights with accusations, criticisms, name-calling, and bringing up past hurts." [8]
Related: Watching Porn With My Partner Did The Complete Opposite of "Spice Things Up"
Bottom line: porn is not healthy, not natural, and definitely not harmless. It can absolutely fuel dissatisfaction in relationships and help to make existing issues even worse. With big online presences like BuzzFeed normalizing porn in society, more and more misinformation is spread to young and old alike, but the truth remains the same: porn is harmful.
We think if everyone could read the thousands of personal accounts we receive through messages and email of how porn tore their lives/relationships apart, they would see that pornography is a poisonous ingredient that isn't anything to laugh about.

What YOU Can Do
If you don't agree that watching porn is normal, take a stand and say so. SHARE this article to spread the facts on why science is showing that pornography is harmful.
[1] Hilton, D. L., (2013). Pornography Addiction—A Supranormal Stimulus Considered In The Context Of Neuroplasticity. Socioaffective Neuroscience & Psychology, 3:20767. Doi:10.3402/Snp.V3i0.20767; Paul, P. (2007). Pornified: How Pornography Is Transforming Our Lives, Our Relationships, And Our Families. New York: Henry Holt & Co., 145.
[2] Paul, P. (2010). From Pornography To Porno To Porn: How Porn Became The Norm. In Stoner, J. Stoner & Hughes, D. (Eds.), The Social Cost Of Pornography: A Collection Of Papers (Pp. 3-20). Princeton, N.J.: Witherspoon Institute.
[3] Wolf, N. (2003). The Porn Myth. New York Magazine. June 14. Retrieved From Http://Nymag.Com/Nymetro/News/Trends/N_9437/
[4] Henline, B. H., Lamke, L. K., & Howard, M. D. (2007). Exploring Perception Of Online Infidelity. Personal Relationships, 14, 113-128. Doi:10.1111/J.1475-6811.2006.00144.X; Stack, S., Wasserman, I., & Kern, R. (2004) Adult Social Bonds And The Use Of Internet Pornography. Social Science Quarterly, 85, 75-88. Doi:10.1111/J.0038-4941.2004.08501006.X; Schneider, J. P. (2000). Effects Of Cybersex Addiction On The Family: Results Of A Survey. Sexual Addiction And Compulsivity, 7, 31-58. Doi:10.1080/10720160008400206
[5] Minarcik, J., Wetterneck, C. T., & Short, M. B. (2016). The Effects Of Sexually Explicit Material Use On Romantic Relationship Dynamics. Journal Of Behavioral Addictions, 5(4) 700-707. Doi: 10.1556/2006.5.2016.078; Perry, S. (2016). Does Viewing Pornography Reduce Marital Quality Over Time? Evidence From Longitudinal Data. Archives Of Sexual Behavior, 46(2), 549-559. Doi: 10.1007/S10508-016-0770-Y; Sun, C., Bridges, A., Johnason, J., Ezzell, M. (2014). Pornography And The Male Sexual Script: An Analysis Of Consumption And Sexual Relations. Archives Of Sexual Behavior, 45, 1-12. Doi:10.1007/S10508-014-0391-2; Poulsen, F. O., Busby, D. M., & Galovan, A. M. (2013). Pornography Use: Who Uses It And How It Is Associated With Couple Outcomes. Journal Of Sex Research 50(1), 72-83. Doi:10.1080/00224499.2011.648027; Stewart, D. N., & Szymanski, D. M. (2012). Young Adult Women's Reports Of Their Male Romantic Partner's Pornography Use As A Correlate Of Their Self-Esteem, Relationship Quality, And Sexual Satisfaction. Sex Roles, 67(5-6), 257-274. Retrieved From Https://Yourbrainonporn.Com/Young-Adult-Women%E2%80%99s-Reports-Their-Male-Romantic-Partner%E2%80%99s-Pornography-Use-Correlate-Their-Self.
[6] Park, B. Y., Et Al. (2016). Is Internet Pornography Causing Sexual Dysunction? A Review With Clinical Reports, Behavioral Sciences, 6, 17. Doi:10.3390/Bs6030017; Perry, S. (2016). Does Viewing Pornography Reduce Marital Quality Over Time? Evidence From Longitudinal Data. Archives Of Sexual Behavior, 46(2), 549-559. Doi: 10.1007/S10508-016-0770-Y; Maddox, A. M., Rhoades, G. K., & Markman, H. J. (2011). Viewing Sexually-Explicit Materials Alone Or Together: Associations With Relationship Quality. Archives Of Sexual Behavior, 40(2), 441-448. Doi:10.1007/S10508-009-9585-4; Morgan, E. M. (2011). Associations Between Young Adults' Use Of Sexually Explicit Materials And Their Sexual Preferences, Behaviors, And Satisfaction. Journal Of Sex Research, 48,(6), 520-530. 8(6):520-30. Doi:10.1080/00224499.2010.543960; Zillman, D., & Bryant, J. (2006). Pornography's Impact On Sexual Satisfaction. Journal Of Applied Social Psychology, 18(5), 438-453. Doi:10.1111/J.1559-1816.1988.Tb00027.X
[7] Zillman, D., & Bryant, J. (2000). Influence Of Unrestrained Access To Erotica On Adolescents' And Young Adults' Disposition Toward Sexuality. Journal Of Adolescent Health, 27(2 Suppl), 41-44. Doi:10.1016/S1054-139X(00)00137-3
[8] Maddox, A. M., Rhoades, G. K., & Markman, H. J. (2011). Viewing Sexually-Explicit Materials Alone Or Together: Associations With Relationship Quality. Archives Of Sexual Behavior, 40(2), 441-448. Doi:10.1007/S10508-009-9585-4