Cover image: Released by Playboy (but cropped and edited by FTND) shows the cover of the March/April 2017 issue of the magazine. (Gavin Bond/Playboy via AP)
One year ago, in March of 2016, Playboy Magazine shocked the world by announcing that it would no longer feature nudity in its pages. Many thought it was fake internet news because it was so hard to believe. It was like McDonald's ditching the Big Mac and Starbucks deciding to serve hot chocolate only. But true to its word, the iconic "gentlemen's magazine" that pioneered the normalization of pornography in society started putting some clothes on its centerfolds and banning full-frontal nudity. The New York Times first broke the story early this morning and interviewed several Playboy executives who admitted that the magazine has been tamed, marginalized, and overthrown by the popularity and normalization of hardcore internet porn.
"That battle has been fought and won," said Playboy's chief executive in the article. "You're now one click away from every sex act imaginable for free. And so it's just passé at this juncture."
Well, one year after making that decision, Playboy has announced that it is returning to classic form. The magazine announced it with their new cover that features the words "Naked is normal" covering the breasts of a model.
Cooper Hefner, Playboy's chief creative officer who's also the son of the magazine's infamous founder Hugh Hefner, says that the decision to revert back to nudity in the magazine "is a reflection of how the brand can best connect with my generation and generations to come."
"I'll be the first to admit that the way in which the magazine portrayed nudity was dated, but removing it entirely was a mistake," the younger Hefner wrote on Twitter. "Nudity was never the problem because nudity isn't a problem. Today we're taking our identity back and reclaiming who we are."
The return to featuring naked women likely means that Playboy will also have to return to being wrapped in plastic on newsstands to hide the cover. Last February, it was able to shed the wrapping, placing it in plain sight on newstands and check out lines for the first time ever. Many Barnes & Noble customers complained about seeing the magazine front and center at the cashier's desk.
Playboy is promoting the nudity change on social media with the hashtag #NakedIsNormal. The company also revealed it is removing the slogan "Entertainment for Men" that has always been printed on the cover. "Playboy will always be a lifestyle brand focused on men's interests," Hefner said, "but as gender roles continue to evolve in society, so will we."
Our take
Even though last year's announcement was made as a business decision, we still considered it a step in the right direction. After all, the most storied softcore porn brand in the world moving away from nudity is a good thing as far as this movement goes. Now with Playboy reverting back to its classic business model of painting pornography as a classy lifestyle choice, we see that this issue in society is constantly evolving. Regardless of personal opinions on the issue of pornography, the fact remains: internet porn has changed the game forever. By being educated on what this new drug is doing to our society as a whole, we can understand its far reaching effects. After all, even Playboy's own CEO knows the harmful effects of pornography on relationships, as he briefly mentioned in a 2015 interview with CNN Money: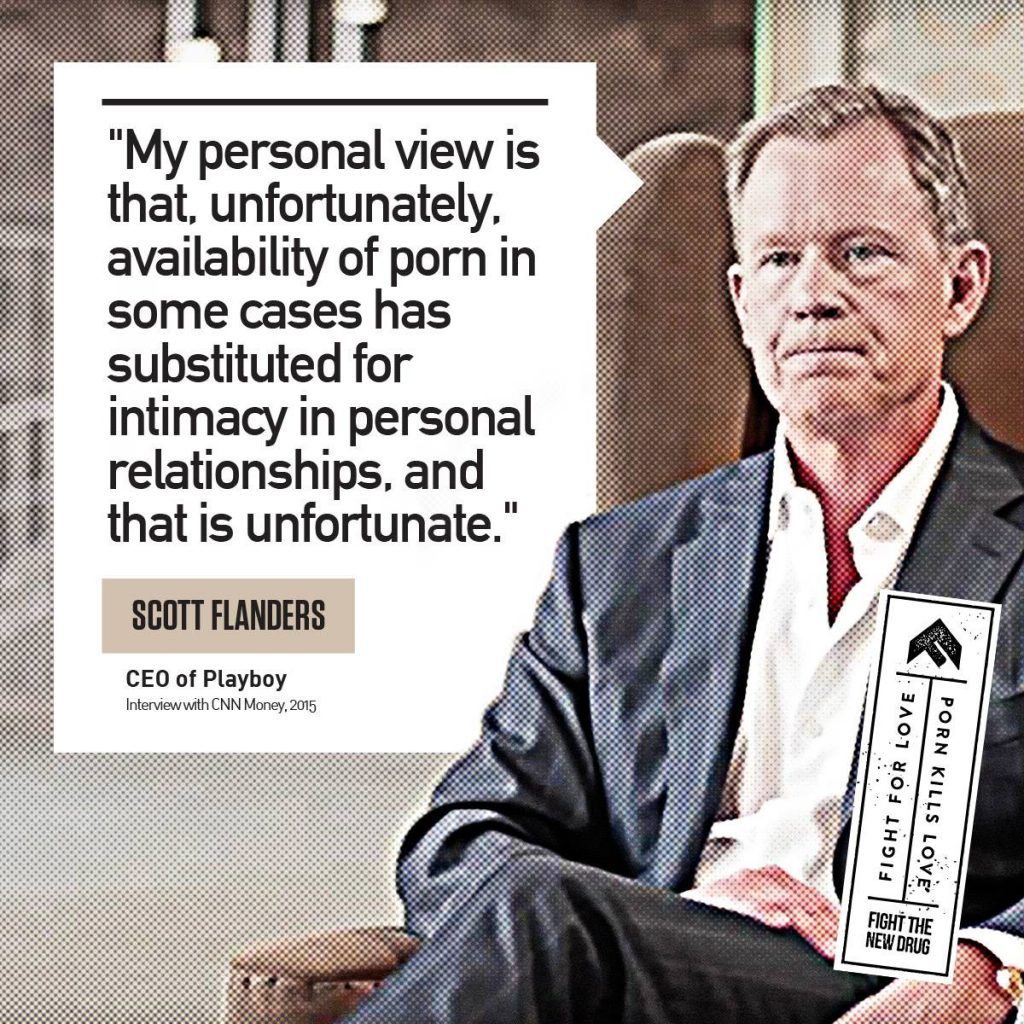 Watch the video below to see how porn has changed throughout the course of human history and what our understanding of it has led to:
What YOU Can Do
Add your voice to this important conversation in society. SHARE this article to help spread the facts on the harms of porn and how it affects society.