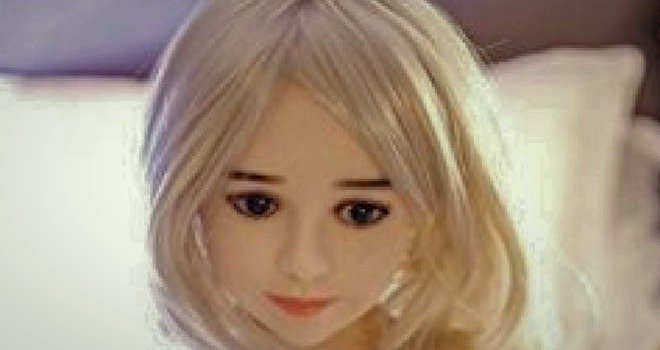 Child sex dolls have officially been pulled from sale in the United Kingdom by online retail giant Amazon.com Inc after widespread criticism from a watchdog and charities in Britain over concerns that people who use such lifelike dolls may go on to sexually abuse children, according to a report by Reuters. Many have also been removed from the United States platform, as well.
More than a dozen child sex dolls were removed from sale, having been listed by third-party sellers, according to Amazon.
"All Marketplace sellers must follow our selling guidelines and those who don't will be subject to action including potential removal of their account," an Amazon spokesman said in a statement. "The products in question are no longer available."
And while there's cause for celebration today, the massive company still has work to do to address products on their platform that normalize or promote objectification and facilitate exploitation.
"While Amazon is to be commended for finally removing many of these dolls the company is still profiting from sexual exploitation, with at least a dozen dolls with child-like faces on adult bodies still for sale," explained Dawn Hawkins, Sr. Vice President of the National Center on Sexual Exploitation. The sale of such dolls and similar material has earned Amazon a spot on the National Center's Dirty Dozen List for the past two years.
Related: Could Child Sex Robots Actually Stop Pedophilia In Our Society?
"In today's #MeToo culture, where sexual harassment and assault are rampant, corporations like Amazon have a renewed corporate responsibility to refrain from normalizing or promoting material that promotes sexual exploitation. We request that Amazon remove all sex dolls immediately from its platform and evaluate whether or not they will continue to contribute to a culture that treats women and children as mere sex objects," she said.
No Evidence for Support of CSBs
We wish this weren't news we had to report, and that childlike sexbots (CSBs) didn't exist in the first place, but the reality is that sex dolls and dolls that look like children are becoming more normalized and popular.
Why do they exist, though? Some think sex dolls could potentially provide an "outlet" for those who are sexually attracted to children to play out their fantasies on an object rather than a person. Experts disagree with this theory, however. Organizations, such as the National Society for the Prevention of Cruelty to Children (NSPCC), say sex dolls can be dangerous proxies to act out fantasies like rape or child abuse.
Related: Australia Seeks To Ban Import Of These Creepy Japanese Child Sex Dolls
"There is a risk that people using these dolls could become desensitized … (and) go on to harm children, as is often the case with those who view indecent images of children online," said Almudena Lara, NSPCC's head of policy and public affairs.
"There is absolutely no evidence that using the dolls stops potential abusers from abusing children," she added.
An Escalating Interest
Recently, the UK Border Force has seized 179 CSBs since March 2016 as part of Operation Shiraz, a special operation set up in conjunction with the National Crime Agency. And in July 2017, a judge ruled CSBs were obscene items and therefore covered by the 1979 Customs and Excise Management Act.
Steps are being taken stateside, as well, to keep CSBs from being accessed—in December, a New York congressman introduced a bill that would ban their sale in the US. The Curbing Realistic Exploitative Electronic Pedophilic Robots Act (CREEPR Act) would be the first of its kind and would block people from buying and selling the silicone dolls online and in stores. So far, it's received some support in the legislative process.
Related: How Powerful Cyberweapons Hunt Down & Remove Child Porn (VIDEO)
We aren't robots experts, but we do hear from experts who break down the escalating nature of a porn habit. Porn is an escalating behavior because, as some consumers develop tolerance, the porn that used to excite them starts to seem boring. [1] Predictably, they often try to compensate by spending more time with porn and/or seeking out more hardcore material in an effort to regain the excitement they used to feel. [2] Many porn consumers find themes of aggression, violence, and increasingly "edgy" acts creeping into their porn habits and fantasies.
Sometimes, these "edgier" porn fantasies involve children. And seeing as many pedophiles seek out images and videos of child abuse, and then some escalate to desiring a lifelike silicone child sex robot, is it not possible that similar principles could also apply to child sex robot owners?
Related: Porn-Sniffing Dogs: New Police K-9'S Trained To Find Devices Containing Child Porn
If someone has a sexual interest in children, and they claim they'd never act out their desires in real life, who is to say that a doll or robot would completely deter theses desires instead of ingraining them and reinforcing them again and again, until the synthetic silicone isn't enough?
We don't want to live in a world where it's normalized to have a child sex doll, so we're speaking up about it. No one's abusive reality should be sold as a silicone fantasy. We applaud Amazon for their decison to crack down on the sale of these harmful products.

[1] Park, B. Y., Et Al. (2016). Is Internet Pornography Causing Sexual Dysfunctions? A Review With Clinical Reports. Behavioral Sciences, 6, 17. Doi:10.3390/Bs6030017; Kalman, T.P. (2008). Clinical Encounters With Internet Pornography. Journal Of The American Academy Of Psychoanalysis And Dynamic Psychiatry, 36(4) 593-618. Doi:10.1521/Jaap.2008.36.4.593
[2] Park, B. Y., Et Al. (2016). Is Internet Pornography Causing Sexual Dysfunctions? A Review With Clinical Reports. Behavioral Sciences, 6, 17. Doi:10.3390/Bs6030017; Kalman, T.P. (2008). Clinical Encounters With Internet Pornography. Journal Of The American Academy Of Psychoanalysis And Dynamic Psychiatry, 36(4) 593-618. Doi:10.1521/Jaap.2008.36.4.593