Hey FTND,
I just wanted to write and tell you about this crazy experience I just had.
So I'm in my home state of Oregon for the holidays and last night I was at Bridgeport Village, which is a really nice outdoor shopping mall here in the Portland area. I was enjoying my time alone and getting some shopping done before moving back to school.
I was looking around a bookstore when I noticed a man in his late 20's sitting on a chair watching me very intently. He wasn't creepy looking at all, just your average 20-something guy you would expect to see at a bookstore, so I thought nothing of it. As I continued to walk around the store, I noticed that he was still watching my every move. We made awkward eye contact once or twice and I could tell he was really observing me. Whenever I moved, I would look out of the corner of my eye and see him follow me. I could feel something was off and started to get a little creeped out so I left.
As soon as I exited the bookstore, the guy followed me out and stopped me. My heart skipped a beat for a second because I wasn't sure what was about to happen. He smiled and introduced himself as Chris, and then got straight to the point: he told me that he owns his own company that films pornography, and that he's the director.
"I was watching you in the store and I feel like you'd be a perfect fit for our next video," he said, almost encouragingly. "Would you be interested?"
I literally thought it was a weird joke. I thought maybe one of my friends was playing a joke on me because everyone who knows me knows how involved I am in the anti-porn movement. I post about it all the time on social media and get involved in any way I can with organizations like Fight the New Drug.
"We can offer you $1,000 an hour," he continued. He then asked if I would be interested in coming down to his studio for a screen test and said that if it went well, then I could be in their next video for $1,000 an hour. He handed me his business card along with some references of people that have worked for him before.
I was pretty shocked and didn't know how to respond. What do you say to someone who tells you with a straight face that you'd be a great fit for porn? I tried to be polite and composed and told him that I was definitely not interested. However, being passionate about this anti-porn cause, I saw it as a great opportunity to ask him some questions and get some firsthand knowledge from within the porn industry. I refrained from telling him that I was heavily involved in fighting against porn so that he would remain open and willing to share the details of his operation.
I proceeded to ask him about how he finds people to work for him and how he "scouts." He told me that a lot of it is word of mouth and referrals from other girls who have worked for him before, but he also goes out and scouts like he did with me. He told me he looks for people who are really put together and referred to his porn as "higher-end." He said that he did not make trashy stuff and didn't want trashy people in his videos. When I asked him if it usually works when he randomly approaches girls like he did me, he said yes almost immediately. "A thousand dollars is a lot of money," he said. "Most girls are very open to trying it out, especially when they're getting paid that much money."
When I asked him about the process of auditioning, he told me that it required the new girl to go in and be paired with a partner who would then have sex in front of him (the director) but with no camera on. He said the purpose was to see how well the girl can take direction while having sex. When I asked him about the risk of STDs and pregnancy, he said it is the model's fault if either of those things happen.
I then asked Chris how he got into this business in the first place. He said that when he was in high school he would film his friends having sex and even direct them. Eventually he was scouted and hired by a porn scout and he's been in the industry ever since.
He kept saying to me, "It's a really cool place to come and work." Things like, "If you have a positive attitude, no matter who we pair you with, no matter what happens, you're going to have a great experience." He said. "You'll never have to do anything you're uncomfortable with." He kept emphasizing this attitude of being open and positive and that it was sure to be a great experience.
Finally, when I asked him how his job affects him in his own personal life, he told me that he has a really great sex life but that he finds it hard to be in a relationship because he needs his partner to be willing to have sex all the time. He casually told me that he has a really high sex drive which makes it difficult to be with someone who can't keep up.
Near the end of our conversation, I think he could tell that I wasn't interested at all and that I was just looking for more information. He told me goodbye and we walked our separate ways.
It was an interesting experience to say the least and so I thought I'd share it with you. Thanks for all you do!
– Rachel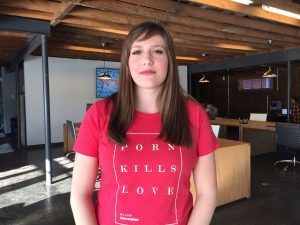 ———-
Rachel's story is as fascinating as it is unsettling. Because although she was able to walk away from that situation, thousands of teenage girls all across the world are tricked every day by charismatic porn producers looking to make money off "fresh talent."
While these porn directors/producers–and the online ads they create–may look suspicious to some, to many teenage girls with limited experience and in need of cash, they seem like an easy opportunity to make money. And unlike Rachel's story, many are not told up front what they'll be doing. Some will mention "nude modeling" or photographing "lingerie," but the end goal is to get as much out of these girls as possible. These people get the girls into situations where they feel like they can't say "no" to what's being asked. For those who do know what they're getting into right off the bat, they still don't mention the situations where the girls will be raped on camera or forced to perform the most degrading acts imaginable for viewers to play on repeat. This isn't some innocent recruitment where they only have to pretend to have sex with a stranger and get paid in return.
A lot of times, if they say "yes" and show up to the shoot, they will be unable to back out even if they wanted to. They're threatened, coerced, and humiliated into giving these people what they want. Whether it be a fat check or a hidden clause in their "modeling" contract, posts like the ones above yield hundreds of victims a day who never understand what they're getting themselves into or were told what they were signing up for.
Here's another real life example:
Last year, we posted a video interview (that has since been removed) we found online of a mom who had dropped her daughter off at her first porn shoot. The mother and daughter talked with the porn director casually about the experience and answered a bunch of questions about the mother's support for the daughter. After Fight the New Drug posted the video, we quickly learned there was much more to the story. We received a message from the girl herself, telling us what really went down that day and begging us to take down the video, which we did immediately. Here is a screenshot of the actual message we received from the girl in the video. She fell for an online classifieds gimmick, exactly like ones listed above. She was just 18 when the ad caught her eye, and off she went to her first porn shoot without being told what she was really signing up for.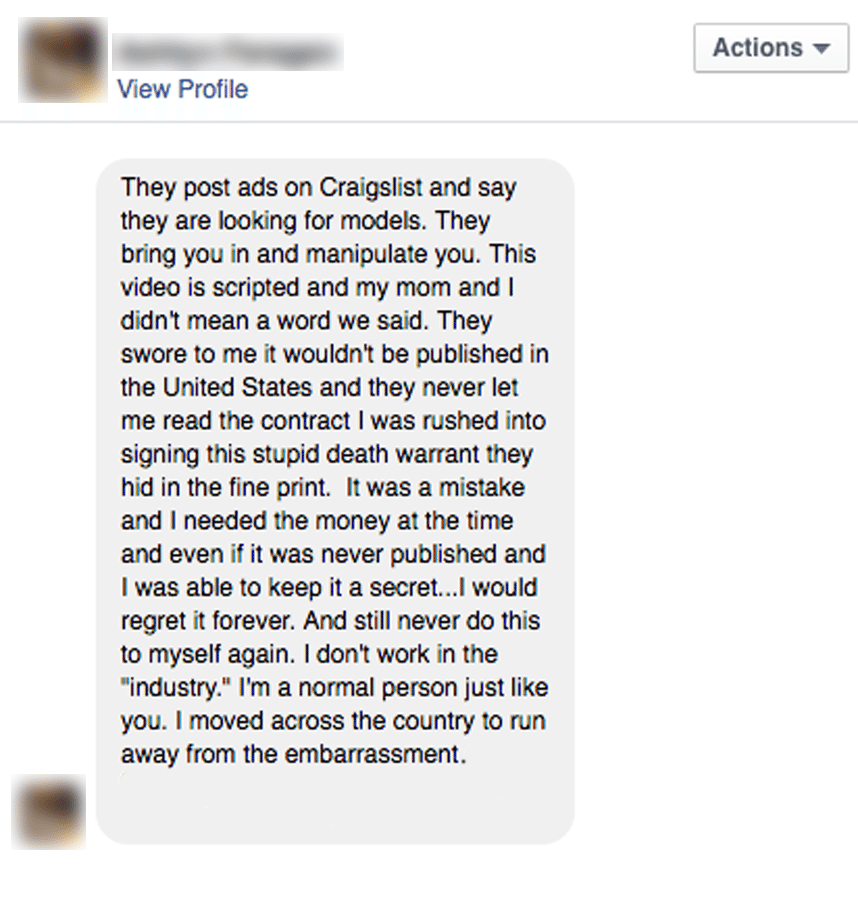 This is just a glimpse into what goes on before and after the cameras roll. Supporting the porn industry is supporting the exploitation of young girls who are coerced into situations that rob them of their dignity and post it online for the world to see.
We're here to speak on their behalf, and say that these girls are worth so much more than the porn industry values them for.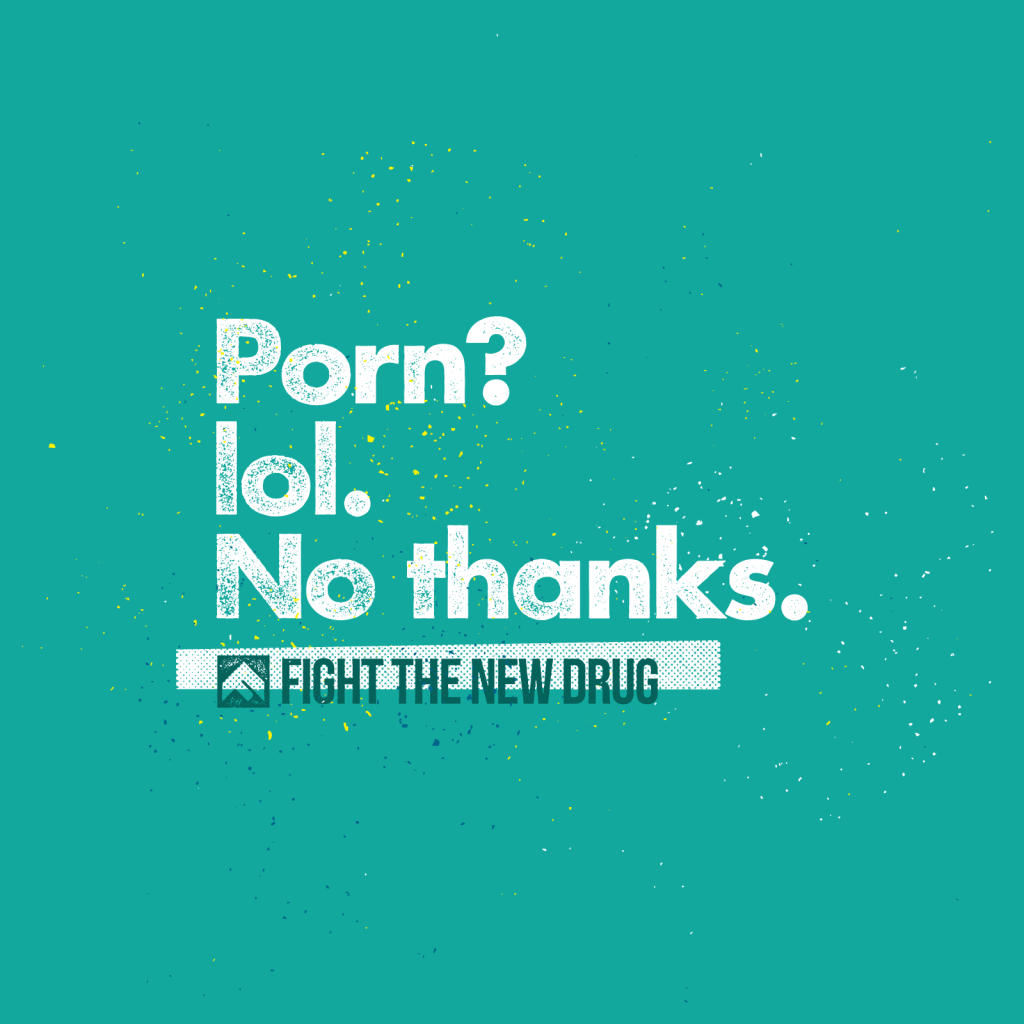 What YOU Can Do
Share Rachel's story and help expose the porn industry for what it really is. SHARE this article to raise awareness on the harms of porn.