One massive online porn site is back at it again to try and normalize porn in our society. The porn giant recently partnered with website Vocativ to unveil their latest disturbing analytics showing pornography search trends on their site.
What Else Is New?
The article features an infographic that shows the most searched porn terms by each state in the United States. According to the report, the number one search term in the majority of 50 states is "lesbian."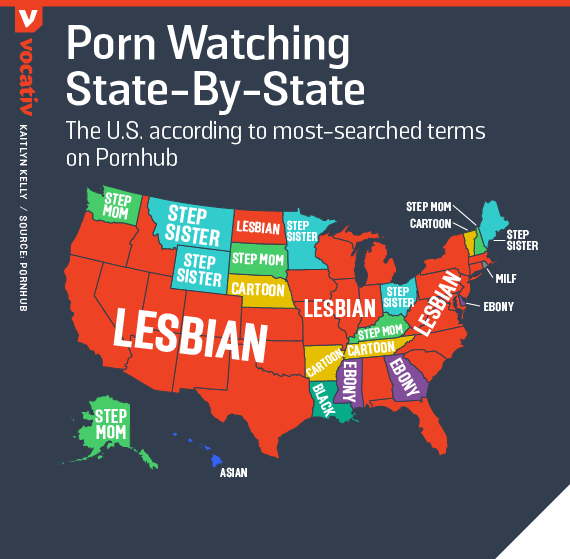 In the popular porn site's never-ending attempt to normalize porn in society and make it mainstream, it has created this disturbingly precise look into the activity of porn viewers on their site, which only goes to show how big of a problem this has become. According to the porn site's 2015 annual report, the site received 21.2 billion visits the year before. Keep in mind this was three years ago, so imagine these numbers, only bigger.
Porn's Escalating Nature
As disturbing as these statistics are, we are getting an in-depth look about the rapid spread of explicit material in a pornified society. As porn has become more popular and more mainstream—thanks to porn sites who never stop trying to normalize it with ridiculous marketing campaigns—the nature of pornography has become harder and more graphic to keep viewers coming back for more.
Related: Research Suggests Porn Linked To Brain Structure Changes
"Thirty years ago hardcore pornography usually meant the explicit depiction of sexual intercourse," wrote Dr. Norman Doidge, in his book on neuroscience, The Brain That Changes Itself. "Now hardcore has evolved and is increasingly dominated by the sadomasochistic themes … all involving scripts fusing sex with hatred and humiliation. Hardcore pornography now explores the world of perversion, while softcore is now what hardcore was a few decades ago."
As Demand Grows, So Does Variety
It's easy to see that this is becoming more true than ever. With disturbing categories like 'step mom' and 'step sister' becoming top search terms, we are seeing an increase in incest and child-themed pornography in our society. Due to the science and research on porn's effects on rearranging and rewiring people's sexual template, this is a concerning trend to be seeing in our society.
Unfortunately, porn has become a powerful and common version of sex education for many people. And what's dangerous is that this distorted form of education is being delivered in a way perfectly tailored to how our brains learn.
Related: Death To Porn: How The Internet Is Killing The Porn Industry
Bottom line: pornography is harmful and research is proving it. Regardless of which you state you live in, you should be raising awareness on the scientific harms of pornography. We need to take a stand and show that none of this normal. Porn is a cheap false imitation that skews sexuality and damages relationships. We shouldn't have to accept porn as normal in our society.
What YOU Can Do
Take a stand and SHARE this article. Be a voice for change in society by educating and raise awareness on the harms of porn.
Need Help?
For those reading this who feel they are struggling with an obsession or addiction to pornography, you are not alone. Check out our friends at Fortify, a recovery program that will allow you take a step toward freedom. Anyone 20 years and younger can apply for a free scholarship to the program, and it is an inexpensive fee for anyone 21 and older. There is hope—sign up today and start getting the help you need at your own pace.
Grab A Tee
This movement is all about changing the conversation about pornography. When you rep a tee, you can spark conversation on porn's harms and inspire lasting change in individuals' lives. Are you in? Check out all our styles in our online store, or click below to shop: