The topic of porn is not one that you hear many movie stars, athletes, or other celebs speaking up about. These high-profile celebs are usually pretty careful with what they say to the media, especially when talking about subjects that a lot of people consider taboo. However, due to the science and research that is coming out daily on the harmful effects of porn, more and more celebrities are starting to take a stand and voice their opinions about the prevalence of porn in our society and how it has affected them personally.
The following is a list of the five most popular notable figures who have publicly addressed the issue of pornography and why they're against it.
---

Terry Crews
In his book Manhood, Terry Crews talked openly about how he was addicted to pornography since the age of 12 years old and how it deeply affected his marriage. In an excerpt from an interview with the Tom Joyner Morning Show, Crews and his wife of 25 years, Rebecca, opened up about the effects it had on their life together:
Terry, did you have a collection or was it just online?
Online. It wasn't a collection, I was smart enough not to keep anything in the house… I (was) suffering from something. I was a loving father, husband, the whole thing, but in the back of my mind I needed something like pornography just to chill. It's almost like not admitting you're an alcoholic or something like that. But the thing is you can't live in two worlds and I was getting farther and farther away from Rebecca. Pornography is an intimacy killer. It just started building up a wall. A lot of people get divorced and they don't even understand how the separation began. It wasn't that she caught me. She was like, 'Something is wrong with you,' and I finally had to admit it was a problem… I realized I couldn't stop.
Then, earlier this summer, Terry officially joined the #PornKillsLove movement by repping one of our popular Porn Kills Love tees and giving Fight the New Drug a shout out to his millions of followers.

Side note: Both Terry and Rebecca Crews follow Fight the New Drug on Instagram and Twitter. They're pretty awesome.


Joseph Gordon Levitt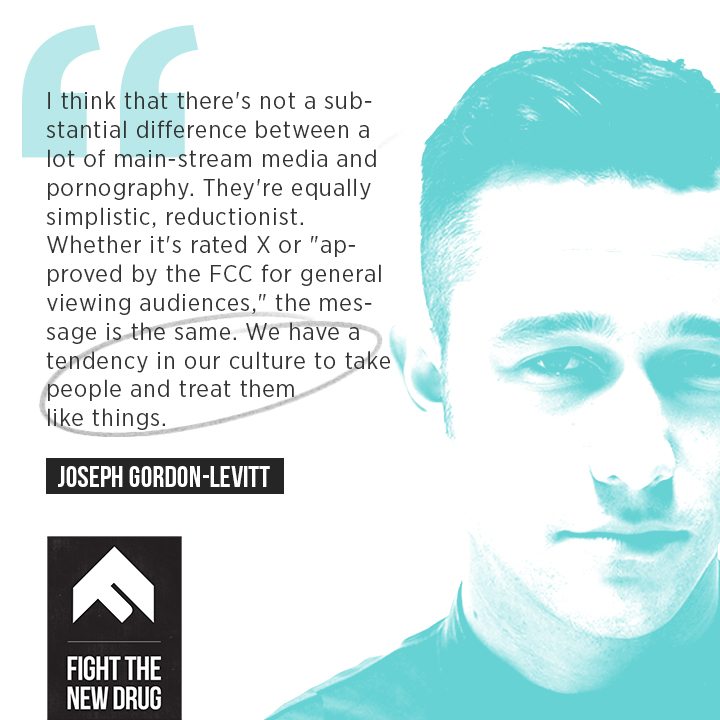 Everybody loves some JGL right? Well here is a reason to love him even more. In late 2013, Joseph Gordon-Levitt's directorial debut hit theaters. The widely released Don Jon, was the topic of much discussion in the media because of the movie's subject matter—porn.
The media described it as a movie simply about porn and a lot of people probably went and saw it because of that. However, after seeing the movie, many realized what it was actually about: love, relationships, and false depictions of both in pornography/media.
The movie, which was written, directed, and starred in by Gordon-Levitt, features Jon, a good looking, macho man who has no trouble with the ladies. However, he finds that regardless of all the beautiful women that he meets, and then after getting into a relationship with his dream girl, played by Scarlet Johannson, he realizes he is severely addicted to internet porn and openly admits that real women/real sex can never compare to porn.
In an interview talking about his character in the movie and the message of the film, Gordon-Levitt said:
"Everything in Jon's life is sort of a one-way street. He is not connecting or engaging with anyone. That goes for the women in his life… It's an item on a checklist. He doesn't listen; he just takes. At the beginning of the movie, he is finding that dissatisfying because there's the sequence where he brings a young lady home from the bar and he is comparing her to this checklist that he has gotten off of what he likes to see in a pornography video. Obviously, a real human being is not going to map onto that because there is a fundamental difference between a human being and an image on a screen."
Since the movie, Gordon-Levitt has been open about his feelings about how the media and pornography negatively depict people and relationships. What a boss.

Rashida Jones
---
This just goes to show that it doesn't matter who you are, the facts remain the same: porn is harmful.
What YOU Can Do
Join with us (and these awesome celebs) and SHARE this article to spread awareness on the harmful effects of pornography. Get the word out and take a stand that porn is not cool.